The Best Concrete Molds: Buying Tips
How to know what are the best concrete silicone molds, and find where to buy them from.
You may be looking to purchase a reusable concrete silicone mold, especially if you are planning on selling concrete and cement planters or other concrete crafts.
Wouldn't it be so much easier to find the best concrete mold, if someone had already done the research?
I mean, first, you have to know where to purchase concrete silicone molds from, whether they're durable, easy to demold and finally, how do you know if you're paying too much?
It's important to know which stores are reputable for purchasing from. Well, I'm here to help because I've done the research for you!
However, if you prefer to make your own concrete silicone mold, then this is the tutorial for you.
Or perhaps you aren't sure if you want a silicone mold and are wondering which type you need? Then this article about choosing concrete molds types will help clarify things for you.
In full disclosure, as of the date of writing this, I have not purchased a mold from any of these shops.
However, as you read on, you will see that I have thoroughly researched and vetted each of these concrete mold suppliers.
To find these mold suppliers, I reached out to a group of my friends who earn an income, making and selling cement planters and other concrete crafts.
They take their craft seriously and have gone through the trials of purchasing from different suppliers until settling in on the mold makers they find trustworthy and provide good quality molds.
It made creating the 'places to buy the best of concrete molds' list easy to do because in my conversations with my concrete maker friends, patterns emerged with the same mold supplier names being repeated. And my list began.
In addition to providing me with details on why they liked these concrete silicone mold stores, they also mentioned a few things that you may want to watch out for.
I double checked all the available reviews, as well as contacted them to verify the quickness of response with their customer service.
First, let's figure what makes a good concrete silicone mold and whether or not you should just make your own.
Buy A Concrete Mold Or Make One?
It can take a little trial and error to make your own silicone concrete mold, but the results can be gratifying.
Making your own mold can mean that your design options are mostly limitless and you can end up with a unique and original mold for your concrete crafts that no shop is selling.
This can be a great benefit, especially if you plan to sell the resulting concrete planter, or decor accessory- etc.
Making concrete molds will require purchasing liquid silicone material and the silicone is a little pricey, but so also are the pre-made silicone molds.
If you prefer to buy your mold, then please read on.
You may also be interested in making your own concrete latex mold, or even one with silicone so you can make a sphere.
Pocket Guide to Concrete & Cement Mixes For Crafts
Grab the free pocket guide. It has a handy chart for choosing the right mix for your project.
What To Look For In A Silicone Concrete Mold
Things to be on the lookout for when choosing the silicone mold and which store to purchase it from are– design; durability; ease of removal; price; shipping times; customer service and perhaps where it's made.
Mold Durability / Longevity
Durability means, what's the likelihood it will tear when trying to remove the concrete. Longevity means the length of time it will last before the silicone begins to tear or break down.
There are many types of liquid silicone. The type used will be a factor in durability, longevity, as well as ease of removal.
The molds that are typically going to allow for mass multiple castings are likely going to be more difficult to remove because of the type of silicone mold material they are made from.
Durability and longevity will be difficult to determine until you have used the molds, but by then it's too late.
Each of the mold suppliers below on the best molds list has been recommended for durability and longevity.
Ease Of Demolding
Another major factor in how easy it is to remove a concrete planter from a silicone mold is the shape and height.
A planter that is wider and shorter will be easier to demold than will be a tall and narrow one.
If the shape is simple and straight, it will be easier than if it has extra cuts, or if the walls have angles or curves.
In other words, demolding a round or eight sided geometric object will be more difficult than a simple, straight sided one.
Another reason concrete may be difficult to release from a silicone mold is because of the actual type of silicone material used.
Some silicone mold material types are softer than others, thus making the mold more flexible and releasing more easily.
However, these come at the cost of durability and longevity.
For instance, tin cured silicone is softer and more flexible than platinum cured silicone. But the platinum cured one will last longer.
The type of material used for the mold may vary based on the actual mold design.
You may buy a planter mold from a supplier that was platinum cured, but the candle mold you purchased from the same seller may have been tin cured silicone.
Based on my research, the suppliers listed below tend to use either the platinum cure silicone or sometimes use the tin cure for specific designs.
This is often not mentioned in the description.
So if you have concerns, just ask. It's just helpful to understand why some are more flexible than others, but for these sellers, a lack of durability shouldn't be an issue.
Mold Size
Size matters? It sure does *snickers to self*. When it comes to silicone molds, photos are very deceiving when it comes to size.
Triple check the size that is listed in the description. The molds usually look bigger in the photos than they actually are.
It's helpful when they show a scale reference like this one where someone has the planter in their hand.
That makes it easy, but it's not common for sellers to show the mold or the resulting concrete item this way.
Be sure to check that you know whether or not the dimensions given are the same measuring units used in your country.
For instance, if you are in the US, the photo doesn't show anything else to reference the size with and an 8cm mold might sound pretty large, but 8 cm is actually only 3 ⅛".
I have found this same issue with photos whether it's Amazon, Etsy or even directly through the seller's website.
So please read the description carefully and convert the measurements if needed.
Here's my favorite quick cheat for converting from inches to cm (and you can do the reverse too). convert inches to mm calculator
Concrete Mold Design Option Offerings
An important thing to consider when choosing the best concrete molds is the design options.
There are multitudes of shapes and sizes offered from the concrete mold suppliers.
Some silicone mold shops offer mostly just the standard/typical planter shape and basic home accessory designs.
Others have very unique planter molds, as well as unique accessories.
It's just a matter of picking through their offerings, and I have a mention about, under each seller, in the Best Places To Buy Concrete Molds section.
Made In The USA?
It may be an important factor to you whether your concrete mold was made in the US or your mother country.
If so, I have listed where the product comes from. This will certainly be a factor in shipping times.
Shipping Times
Please keep in mind that any sellers outside of your country may be unable to ship to your country at this time, due to the pandemic.
Some are able to ship but are experiencing delays. Once the pandemic ends worldwide, shipping rules and logistics should go back to normal.
Make sure you check shipping times to make sure you will receive your concrete mold in time.
Customer Service
It's always best to double check the reviews for sellers to see if there has been customer service complaints.
There are reviews for shops that sell on Etsy and Amazon, but for a direct website seller, there won't be reviews.
But again, from my own experience contacting them, my research and the recommendations given to me, these sellers have had little to no customer service complaints.
Here is information on choosing the best type of mold material for your concrete crafts project– ex; plastic molds, wood forms, etc.
Some of the links on this page have been provided as a convenience for finding materials. These links may also be affiliate links. As an Amazon Associate I earn from qualifying purchases, at no extra cost to you.
I only recommend products I've used and loved, unless otherwise stated. Click here to read my full disclosure policy.
UPDATE: I have created a new article for 31 of the most unique concrete silicone molds you can buy, so you may want to jump straight to there! Below is information about some of the places I am recommending purchasing from.
Here Are The Best Places To Buy Concrete Molds
Where to buy:
Amazon
Typical shipping times:
3-5 days for some items, 4-6 weeks for others
Return policy:
Free returns if stocked locally, otherwise, it doesn't look like the product can be returned.
Customer service:
Responsive
Design offerings:
Same as above
Recommendation comments for both Nicole shops:
The recommendations from my friends who make and sell concrete crafts were a mixed bag for these Nicole shops.
Like Pinkie molds- occasionally inconsistent quality. Some molds end up being perfect and some have flaws. The planters seem to have more issues, but items like tray molds have been very good.
Some makers had no complaints about Nicole Craft Design or Boowan Nicole molds and one said that the molds she purchased from here are still going strong 3 years later.
Generally, the Amazon and Etsy reviews were very good- at last check averaging 4 ½ stars.
My advice is to make sure that if you purchase from the Nicole Amazon shop, that the item listing says Free Returns, because some items are listed as returnable but many items are not.
It looks like the ones that are stocked locally are the ones with Free Returns.
One other thing to note, it's probably worth checking both the Amazon and Etsy prices for the item you are interested in purchasing.
This is because for some of the items, once shipping was calculated, the Etsy prices were actually a little lower.
These next three concrete mold suppliers are actually tied for the best stores to buy concrete molds.
Which one is best for you will come down to shipping, returnability and design option offerings.
Where to buy:
Etsy
Made in:
China
Ships from:
China
Typical shipping times:
The Etsy shop site currently states 1-3 months, but when an item is placed in a cart, it shows 2-4 months. Processing time adds 3-10 days.
Shipping can be expedited for an extra charge, which cuts the shipping time in half.
Return policy:
Accepts returns and exchanges, cancellations are not accepted. *The policy may be different for some models, so please double-check.
Contact seller within 14 days of delivery; ship items back within 30 days of delivery
Customer service:
Responsive
Design offerings:
Planters and home accessories- many unique. They even sell home furnishing concrete molds and sink molds
Recommendation comments:
This concrete mold seller can be hit or miss according to my sources as well as the online reviews. Occasionally inconsistent quality.
The issue tends to be that some molds end up being perfect, but others have flaws.
The planter molds have the most complaints, but simple and flatter shaped items, like trays, have solid reviews.
Made in:
US
Ships from:
Portland, Oregon
Typical shipping times:
ships within 1-3 days. Time to arrive depends on your location.
Return policy:
30-days to return, but you have 14 days after receiving your item to request a return.
To be eligible for a return, your item must be in the same condition that you received it, unused, and in its original packaging.
Customer service:
Responsive
Design offerings:
I'm unable to comment on this right now because at this time they have low inventory but told me they will have more stock in early 2021.
Recommendation comments:
Good, consistent quality.
Where to buy:
Etsy
Made in:
Vienna, Austria
Ships from:
Vienna, Austria
Typical shipping times:
Ships within 1-3 days. Length to arrival depends on your location. Currently slower shipping times due to Covid restrictions.
Return policy:
Contact seller within 7 days of delivery; ship items back within 14 days of delivery. Cancellation- request cancellation within 3 hours of purchase.
Customer service:
Responsive
Design offerings:
Planters and home decor accessories.
Recommendation comments:
Good concrete molds to buy, with consistent quality, and good customer service.
Where to buy:
On their website
Made in:
Turkey
Ships from:
unknown
Typical shipping times:
Processing 3 days, delivery 2-5 business days
Return policy:
Returns accepted
Customer service:
Responsive
Design offerings:
Planters, home decor accessories
Recommendation comments:
Awesome quality, though pricey. Consistent.
Don't forget to Pin it for later!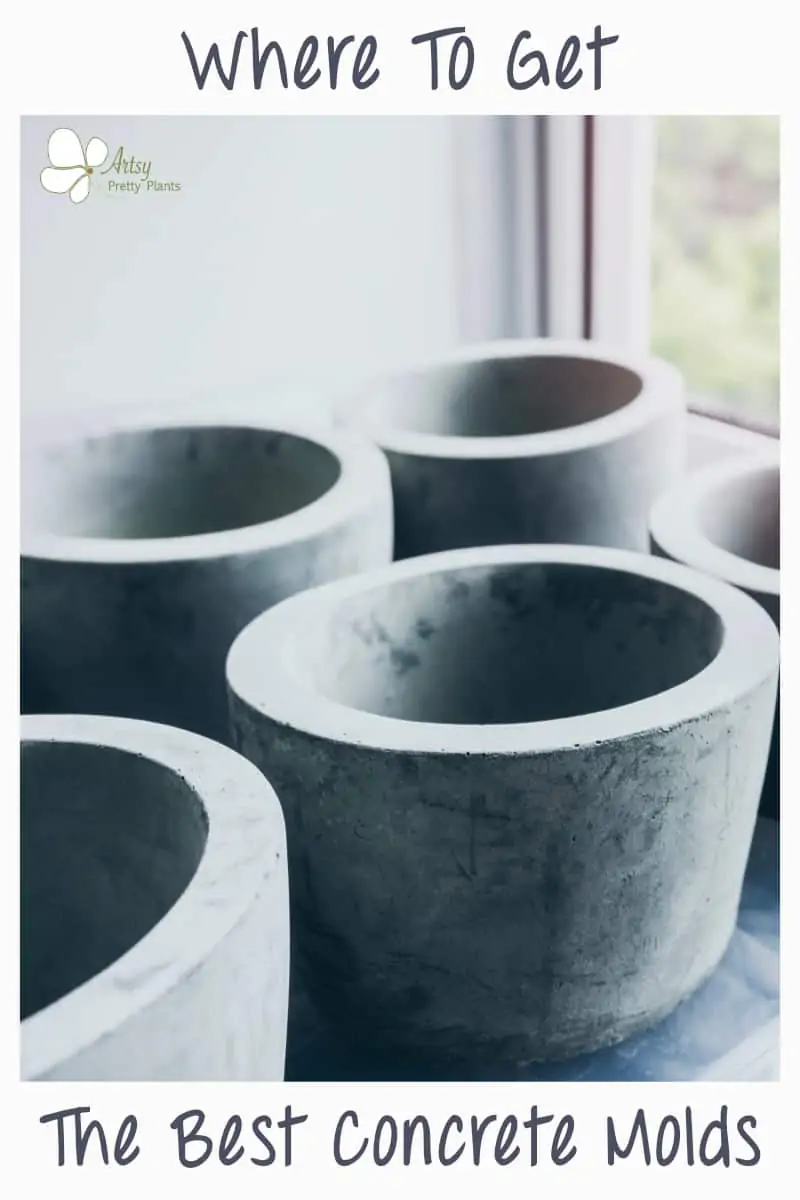 Don't forget to Pin it for later!