Cement Balloon Planters (Easy DIY!)
Learn to make these cement balloon planters the easy way, and that works! Use a balloon as your mold.
Cement, not concrete, is the key.
I started this project out feeling really frustrated.
Originally I tried to make these round cement planters using concrete like other tutorials show, but it was a complete fiasco.
Even though I sifted the concrete to get out the gravel, it just didn't work. I must have popped 5 or 6 balloons in the process.
I also was working outside and accidentally polluted the environment with 4 runaway balloons I was never able to catch- it was really windy that day.
Aargh. I watched a million videos and read tutorials of people making these with concrete and I'm feeling like they have to be faked a bit, because it just doesn't work.
Pocket Guide to Concrete & Cement Mixes For Crafts
Grab the free pocket guide. It has a handy chart for choosing the right mix for your project.
After all that, not able to let things go, I forged ahead with my research and I found a blog called Made By Barb. She does lots of fantastic things with concrete.
–Palm slap to the forehead for the "ah ha" moment!– Cement! That was the key.
For more details on why the Rapid Set Cement All works so well, take a look at my post about six different types of concrete and cement mixes that I tested, and how they all compare.
Barb made these large orbs for her garden that were pretty much the same concept as the balloon planters, so I tried her recommendation of Rapid Set Cement All.
You can probably use any brand of rapid set cement, but the trick is, make sure it is cement, not concrete and that it sets quickly.
When planning the size of your round DIY cement planters you'll have to consider your balloon size.
Make sure the balloon package says "round". I used round balloons that said 7″.
You can use bigger ones in place of the 7″ and just blow them up with less air to be smaller, but be careful because they may end up being more oval than round.
Make sure to have everything set up and ready to go because once you start mixing the cement, you won't have much working time.
Use a small mesh strainer that has hooks allowing it to sit over a bowl. This made making these so much easier.
Otherwise a container like a cup or bowl that has a mouth the right size to support your balloon will also work.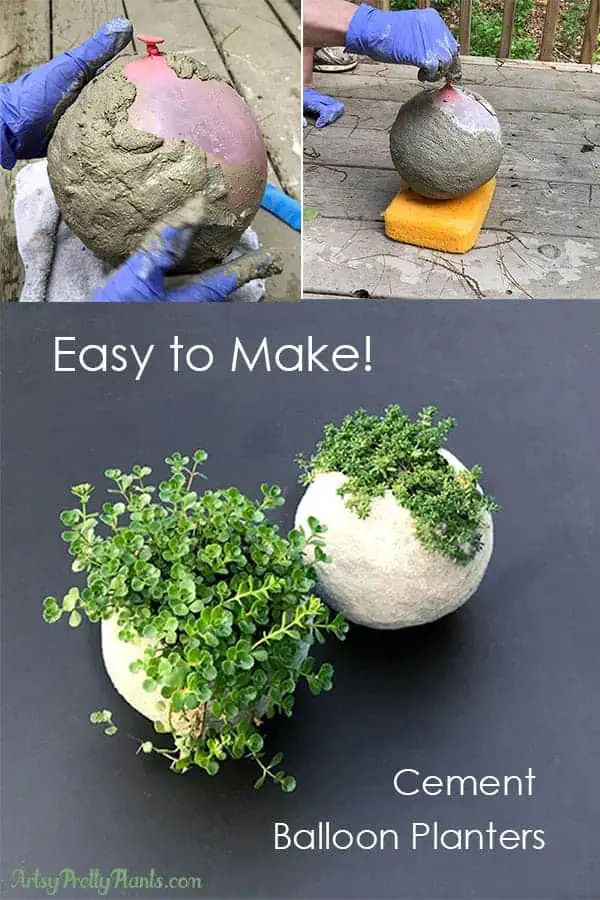 If you use a container, fill it with sand or stones to weigh it down so it won't tip over while you are working on it.
When you have a chance, please check out my post on these other round Mini Balloon Planters! And also these vertical Cinder Block Planters.
As always, please ask me any questions you have about how to make these in the comments at the bottom of the page. Comments welcome.
What Not To Do:
Don't use concrete (refer to the intro above to see what disaster ensues)
Watch The DIY Cement Balloon Planter Video Tutorial
Please click the button to subscribe to my YouTube channel and be notified when I have a new video tutorial!
Some of the links on this page have been provided as a convenience for finding materials. These links may also be affiliate links. As an Amazon Associate I earn from qualifying purchases, at no extra cost to you.
I only recommend products I've used and loved, unless otherwise stated. Click here to read my full disclosure policy.
DIY Difficulty Level | Easy
Materials For Making Cement Balloon Planters
* If you are in Australia, use this mortar mix. Check out Brenda's comment at the bottom of the post (in the comments section), she used this mix and it turned out great. You should also check out her photos of the planters- amazing!
Old wire mesh strainer with hooks
Disposable plastic mixing bowl
Plastic grocery bag
Disposable measuring cup
3 Q-Tips
Succulent plants
Important!
The type of cement you use for this project is very important. The reason this works is that this cement is smooth and quick setting.
For more info on the Rapid Set Cement All, please see my post comparing the concrete and cement craft mixes, as well as other good information on cement making. Making Cement & Concrete Crafts Tests.
Note: The measuring cup and mesh strainer will get cement on them, so only use these items for crafts.
In place of the mesh strainer and mixing bowl, you can use a container such as a cup but you will need to weigh it down with stones or sand.
And you may want to use blue painters tape to help hold the balloon in place.
Also, I needed to use the strainer because I did this outside and it was kind of windy out. You may be able to get away with just using the sponge to hold it in place.
Note: In this written tutorial I started applying the cement to the tied end of the balloon.
In the accompanying video, I switched it to applying the cement to the non-tied end of the balloon. It really doesn't matter which end you start with.
I made these planters outside as seen in these photos and it was a little windy, which is why I needed the sifter to hold the balloon.
For the video, I made these round planters inside, so the mesh strainer wasn't necessary.
For in-depth, general information on making concrete planters, check out How To Make Concrete Planters- Everything You'll Need To Know.
And for another cool tutorial for a round ball ornament, check out this easy concrete sphere for the garden.
Cement Balloon Planter Tutorial Steps
**Not all plants do well in concrete and cement planters. While they are loved by most succulents, other plants may not share that love.

There are easy fixes for this. Please see Are Concrete Planters Safe For Plants? to learn more.
Step 1. Inflate The Balloon
Inflate your balloon but keep in mind, the finished piece will end up being larger than the balloon because of the thickness of the cement.
So make the balloon smaller than what you want your finished planter to be.
The round planter size I wanted was about 6″ and I have one of those 5″ round globe light bulb covers, the common ones you see at every big box store for probably 9 bucks.
So I used that for reference and blew the balloon up to be the same size as the globe. The finished planter ended up being the perfect size.
Step 2. Set Up The Balloon
(See pic in Step 4 for how this looks) If you are using a mesh strainer, then take a mixing bowl and cover it in a plastic grocery bag to protect it.
Otherwise, use your weighed down container. Have the cup of water next to you, along with a rag for clean up.
Step 3. Mix The Cement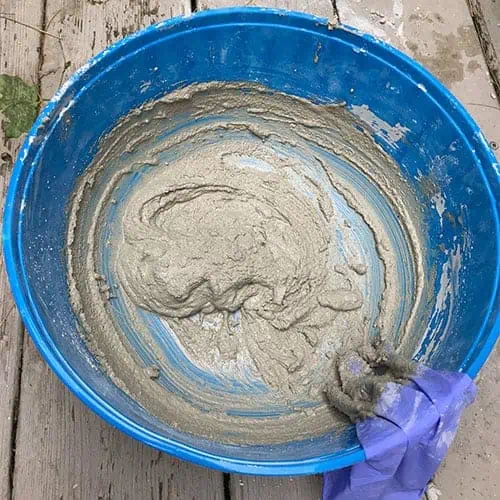 In the big disposable plastic bowl, pour in about 1/2 a cup of water. Add a little bit of cement and mix with your hands. Make sure you wear gloves!
These newer gloves I found since I originally posted this tutorial are amazing and have yet to tear.
They aren't the least expensive option, but last longer so you use less of them, making them still cost-effective.
Mix the cement slowly, adding more cement as you go. You will do this a few times until the cement is the consistency of cake frosting.
This doesn't have to be an exact science, just play with it.
If it feels too thick when applying it to the balloon, take the cement off, put it back in the bowl and add a tiny bit of water. If it's too thin, add cement.
Step 4. Mold The Balloon With Cement

Start with the tied end of the balloon facing upward. Scoop the cement onto the top balloon, but leave the tied area free of cement, this is where you will leave the opening for the plant.
Leave it large enough to get your hand inside for ease of planting. If you get it too close together just push it apart.
Start molding it and work your way around, shaping and smoothing as you go.
You can keep wetting the cement or your hands as you are sculpting, and also add cement to any areas that it may need to be built up.
Be careful not to let the cement touch the edge of the container or strainer.
Doing so will cause a bump and even more importantly, if the cement pushes against the strainer, it can cause it to crack.
So keep the cement free and clear of everything except the balloon.
The second side will be easier, so don't worry about trying to get the first side fully covered, a third will be good.
The cement will cure within an hour or two. Be sure to keep this out of the sun while it's curing because the balloon may expand and pop.
Keep it somewhere where the temperature won't vary widely over this hour or two period.
Step 5. Mold The Other Balloon End and Create Drainage Holes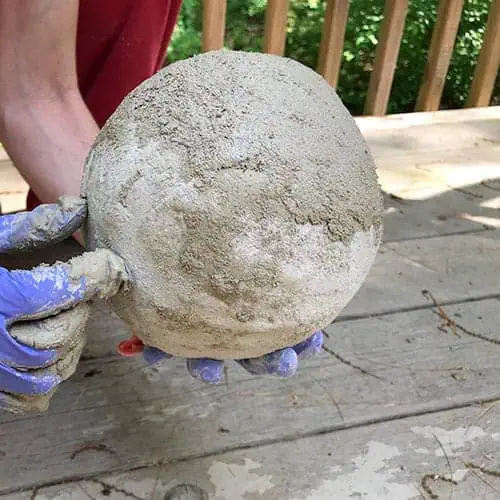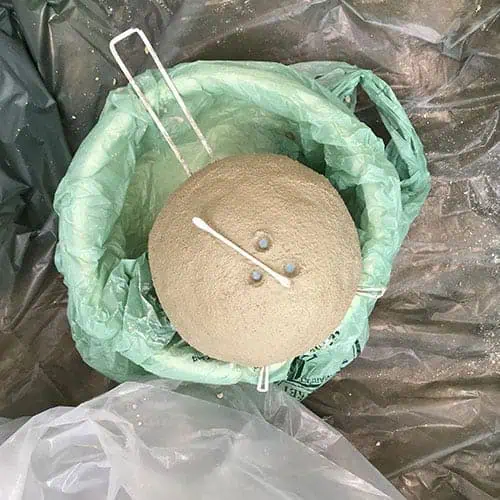 Once the first side has cured, you can flip it over and rest it on the sponge to work on the other side. The sponge will alleviate pressure while you are working on it.
Continue adding cement around the 2nd half of the balloon. Pay special care to the edges where the two ends meet in the middle and smooth as best you can to give it continuity.
After you are done, carefully use a Q-tip to press a few small holes for drainage, just sort of spin the tip to create the space. You may need to wet the Q-tip to get the holes free of cement.
Step 6. Pop The Balloon
Let the cement dry, you can just let it rest on the sponge, or in the strainer.
It should take about 1-2 hours depending on climate conditions, then you can pop your balloon.
If you wait too long to pop it, the balloon may be more difficult to pull out and could stick to the cement.
To pop it, just use scissors and snip the spot where it's tied, then pull the balloon out of the cement planter.
Step 7. Reinforce The DIY Cement Planter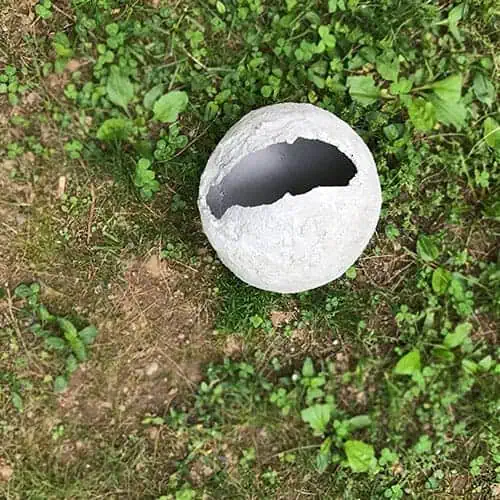 You should reinforce the balloon by adding more cement inside.
Mix up some more cement and pour it into the sphere, make sure to keep your drainage holes clear, use the Q-tips again if you need to.
I made mine about 1/4-1/2″ thick on the bottom, then built up the sides just a bit.
Your planter may be durable enough without this step, but better safe than sorry.
Step 8. Plant Your New Cement Balloon Planter
Add soil and then your plants! What types of plants will you use? Succulents?
If you like round planters, then you may want to see my tutorial on making round magnetic cement planters!
And, have you seen the clay version of this cement balloon planter? Yep, you can also make this with clay. You can see the Clay Cement Balloon Planter here.
Or how about the Textured Cement Balloon Bowl Planter? I named him Barry.?
And for total inspiration, take a look at these 21 Unique Concrete Planter Tutorials!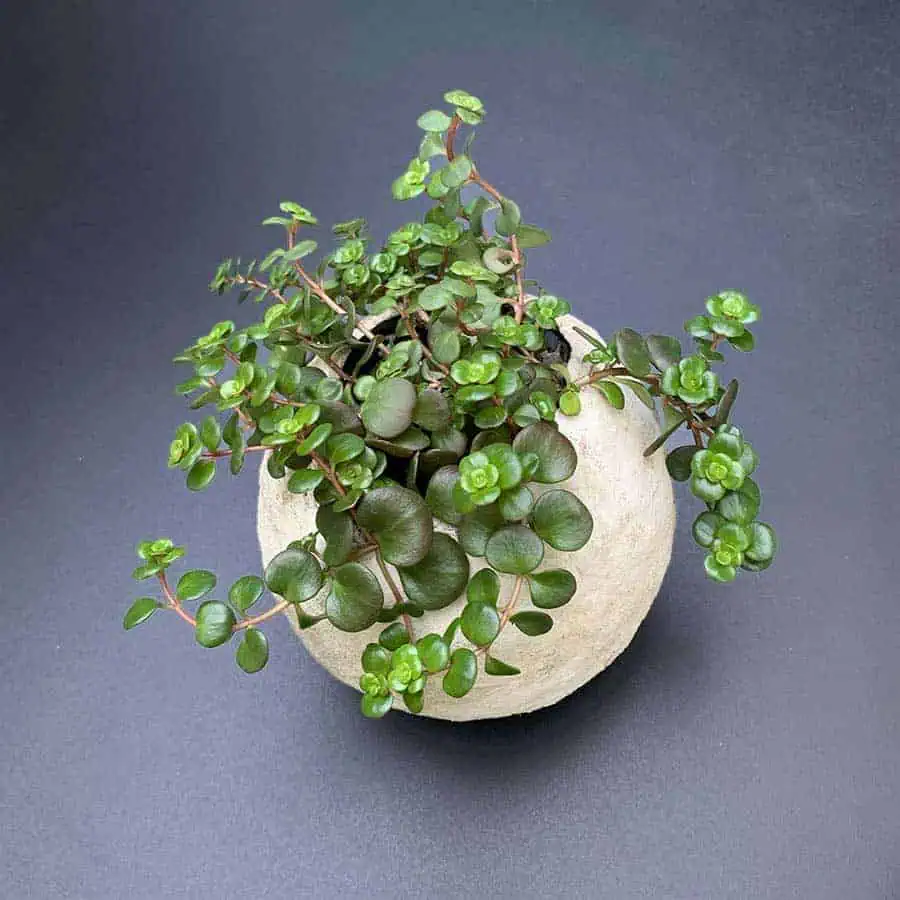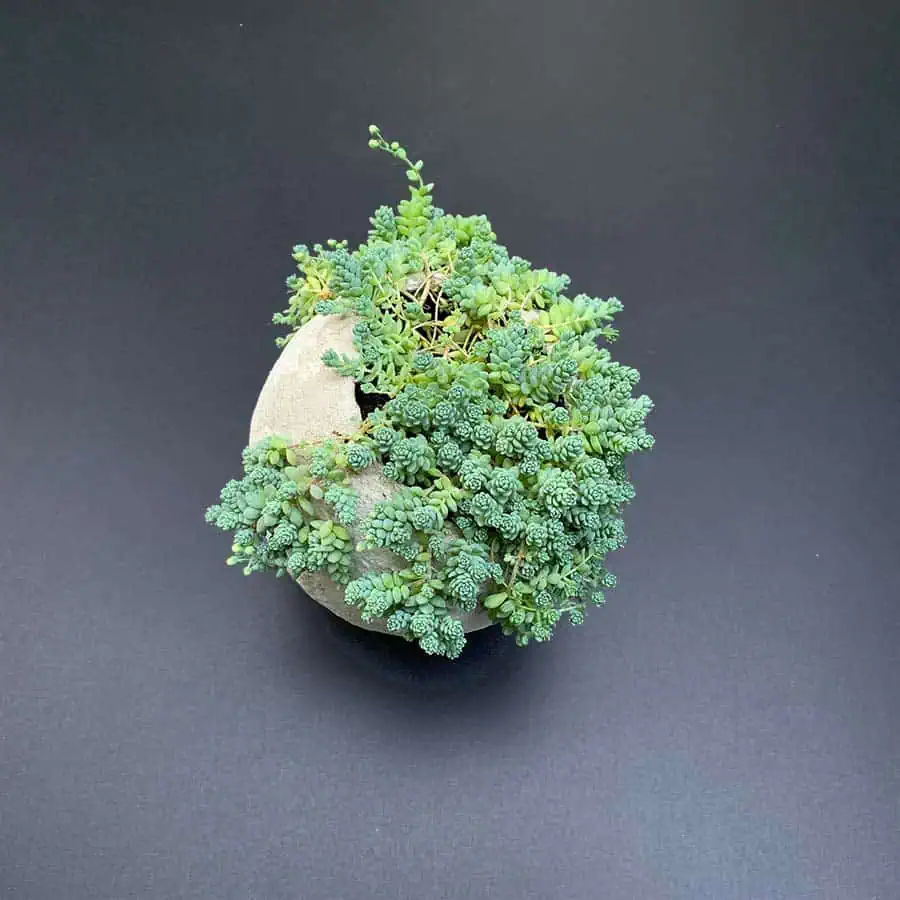 Cement Balloon Planters
How to make a cement planter using a balloon as the mold. This unique round DIY planter is super easy and quick to make.
Materials
Rapid Set Cement
Balloon - 7"
Tools
Please see the FULL materials list above the tutorial.
Instructions
Inflate The Balloon To The Size You Want The Planter
Set And Stabilize The Balloon
Mix The Cement
Place Cement Onto The Balloon And Sculpt
Create The Drainage Holes With A Q-Tip
Pop The Balloon And Remove It
Reinforce The Cement Balloon Planter WIth A Skim Coat
Pot The Cement Balloon Planter WIth Succulents Or Your Favorite Plant
Don't forget to Pin it for later!