17 Free Godzilla Coloring Pages
Get ready, fellow fans of Godzilla; we have a treat for you today! We've created an incredible collection of free printable coloring pages based on the iconic film Godzilla!
This worldwide pop culture icon continues to be popular with kids of all ages, so there's sure to be one that even older kids will enjoy!
They are a fun way to bring Godzilla to life using color recognition and a little creativity.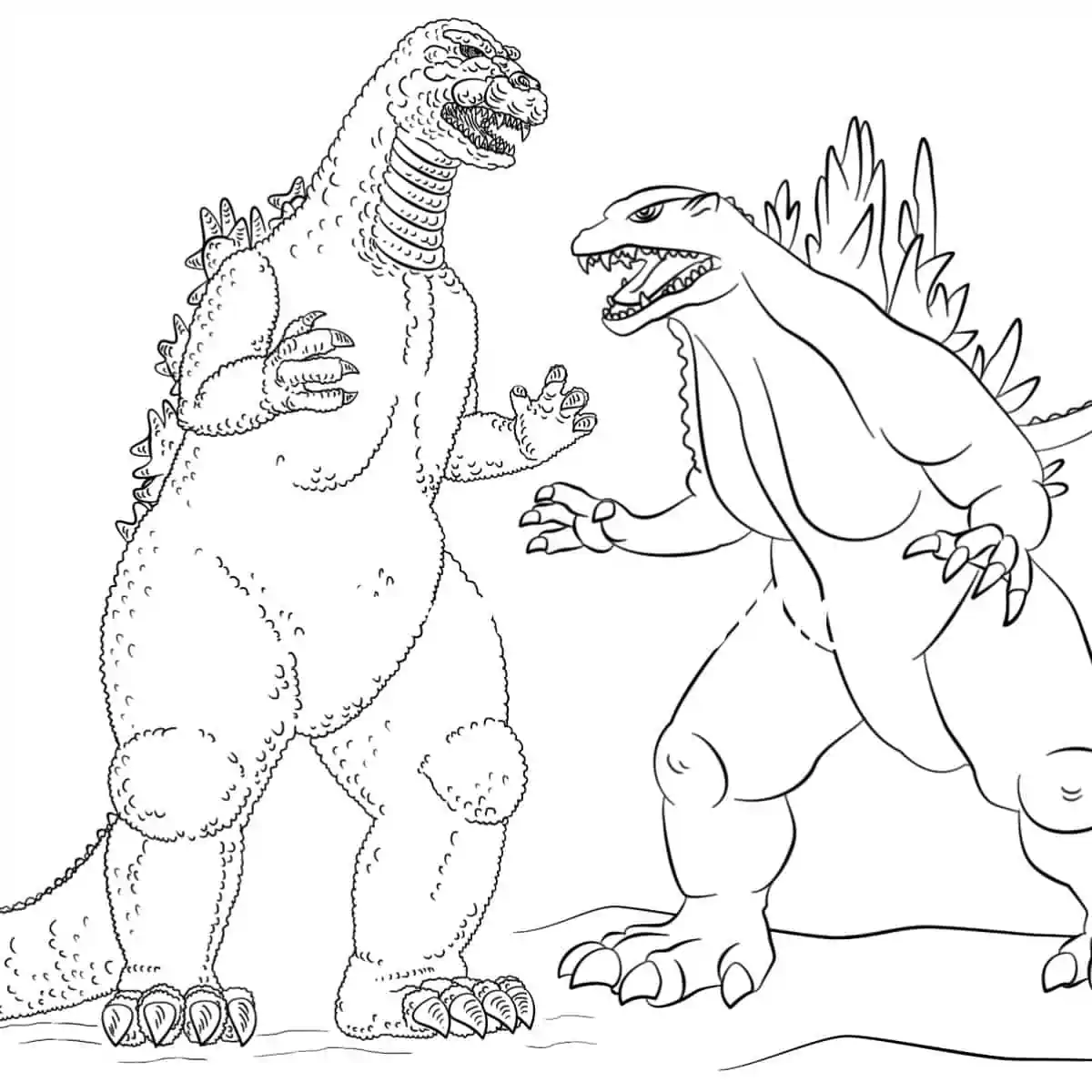 Godzilla was first introduced in the 1954 movie of the same name. It was an immediate hit and is now the longest-running film franchise ever!
There have been over 30 films based on this gigantic sea monster known as the King of Monsters.
Fun Fact
The original concept for Godzilla he was supposed to be a giant, mutated octopus! Ultimately, the producer decided to go with a dinosaur-like design. Smart choice!
The Avengers, Transformers (on our sister site) and the video game Among Us are some other coloring pages you may like as well.
Printable Godzilla Coloring Pages
This prehistoric sea monster is in the city ready to destroy anything in his path!
Fueled by nuclear radiation, Godzilla storms the city, causing more destruction.
Fun Fact
Did you know Godzilla has destroyed 31 cities, including New York City three times and Paris twice.
Not surprisingly, Tokyo was the first city to be destroyed in the original 1954 movie and featured in 13 films.
A fierce-looking Godzilla with sharp teeth and claws.
Godzilla wrapped around a towering skyscraper.
Fun Fact
Godzilla is so popular that he has been referenced in cartoons including Futurama, South Park and Animaniacs. Not to mention the kids' favorite Nickelodeon series Rugrats.
The unstoppable monster fueled by nuclear power destroying another city.
Taking an electric bite to fuel his strength.
Perhaps one of the most popular battles features King Kong vs Godzilla in this 1962 classic.
Godzilla the Series is ready to be brought to life in this fun coloring activity.
A cartoon Godzilla roaring before he attacks.
Fun Fact
From 1977-1974, Marvel issued a collection of 24 comic books featuring Godzilla vs. The Avengers! You read that right. He battled against both the Avengers and the Fantastic Four!
A prehistoric dinosaur looks fierce as he plans his attack!
An angry Godzilla stands tall and baring his teeth.
This activity page is perfect to use with colored pencils for a real-life piece of art.
Godzilla awakened and empowered by nuclear radiation.
Fun Fact
Don't miss the homage paid to Godzilla in The Lost World: Jurassic Park, which features a few Japanese tourists running from the dinosaurs. One of the tourists screams (in Japanese), "I left Japan to get away from this!"
A close up of Mothra as he prepares to battle the sea monster.
Godzilla takes a tumble during battle.
A towering Godzilla is on his way to cause more destruction.
A fierce Godzilla rising from the sea.
Don't forget to Pin it for later!
Some of the links on this page have been provided as a convenience for finding materials. These links may also be affiliate links. As an Amazon Associate I earn from qualifying purchases, at no extra cost to you.
I only recommend products I've used and loved, unless otherwise stated. Click here to read my full disclosure policy.