Getting Started Making Cement & Concrete Crafts. Learn The Basics, & Tips !
How do I make concrete crafts?
Have you been wanting to make cement crafts and are struggling with the first step? Or maybe you've done a few projects, but still feel like there's so much more to learn? This article will give you in-depth explanations and information for things that I use and things that I do in the concrete/cement tutorials. If you've made some of the projects in the tutorials already, you'll appreciate the additional insight as well as cement crafting tips.
First-timers in concrete and cement making, that first step is a small, low hump, but once you step over it, then you're off to the races. You'll look back and wonder why that first concrete project took you so long to get started. The information here is meant to give you all the basic information to begin your first concrete/cement crafts project.
I promise you, making things with concrete is much easier than you think. Let's do this!
If you haven't read my article yet on the Cement Tests I performed, you might want to hop over there afterward and check it out. I ran all kinds of fun experiments to learn more about working with concrete and cement and the results were very interesting.
Concrete vs Cement
What's The Difference Between Cement And Concrete?
In short, cement is an ingredient of concrete. You can't have concrete without cement. Cement can have different properties, but typically it is made of limestone, clay, and shale. Cement is basically a clay-like paste and it used alone will not create a bond strong enough for anything structural, nor cement crafts. It will crack. See my Cement Tests for proof.
Cement will become binding when mixed with sand. That's all it needs for you to be able to make crafts with.
Concrete is made up of cement and aggregates like sand and gravel.
The cheat sheet: Non-binding cement = clay and other minerals. Binding cement = clay, other minerals and sand. Concrete is cement + aggregate like gravel or stones.
You should know that when speaking about concrete/cement, I typically do use those terms interchangeably. Cement and concrete can often be used for the same types of craft projects, it just depends on what type of look you are going for and how much time you have to complete the project.
Just know that though I do refer to both concrete and cement in general terms, in my tutorial materials and steps, I will always specify which one I used, as well as the brand.
What Is The Best Concrete For Crafts?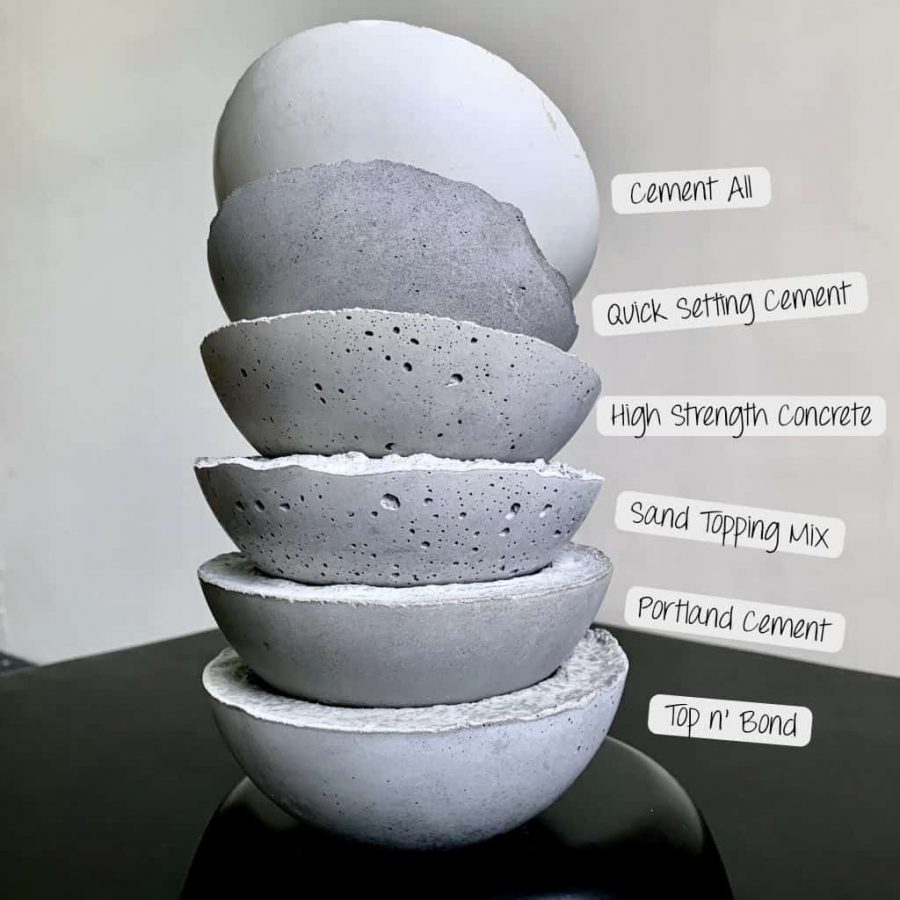 I discuss this in the Making Concrete and Cement Crafts Tests article comparing the cement and concrete mix differences. I also did tests on color, texture, sheen and curing time for the various concrete mixes. Also, be sure to grab your free Pocket Guide to Concrete & Cement Mixes. It's got a handy comparison chart for reference.
Concrete and Cement Crafts Making Glossary
These are the definitions for terms I commonly use in my cement and concrete tutorials.
Aggregate
Is different types of materials that are added to a cement/concrete mix, typically for strengthening. These can be things like gravel, sand, stone or slag.
Cast
Pouring the cement or concrete into a mold or form. A cement piece that is made from a mold is a casted object.
Cured
The cement or concrete material has gone through the full process of hardening and has lost all of its moisture.
Demold
The process of removing the cement or concrete craft piece from its form/mold.
Integrated Color
Adding a pigment or colorant (term varies depending on the brand) to the dry mix or wet mix- (before the cement has set or cured). Here are a couple of tutorials that use pigments-
Cement Cone Vase
Magnetic Cement Planters
Mini Cement Balloon Planters
Moldable
A concrete mixture that has a consistency that it is workable and readily pliable- not too stiff or too runny.
Slurry
A mixture consistency that is what I refer to as a milkshake consistency.
Skim coat
A spreadable cement mixture consistency, not runny.
Set
When you can no longer insert an inner mold into an outer mold, or manipulate the cement in any way. This is not the same as cure.
Topical Color
A dye or stain that is applied after the concrete has cured.
Undercut
A divot or set-in place in your mold that when the cement is removed, it will get stuck. Undercuts will prevent you from being able to de-mold a cast piece. If you pour concrete into a for and there is a ledge, or has indentations or angles to it, then the concrete will be wrapped around, or stuck inside and not release. This is usually not a problem if the mold itself is flexible, like a silicone or rubber mold.
Workability (Moldability)
Whether or not the concrete is moldable- easily formed.
Working Time (Set time)
The amount of time you have to work with the cement before it has hardened past workability. Temperature and humidity will affect the timing of this.
Materials And Tools To Get Started
What Materials Do I Need To Make Concrete/Cement Crafts?
These Are My Trusty Go To Tools and Materials for Concrete/Cement Making
Disposable mixing bowl: These cheap dollar store bowls are the perfect size for most of my projects. They are quite durable as I am able to use them many multiples of times before having to dispose of them. There are two different tricks you can use to make these reusable. I have this detailed in the cleaning information below.
Very durable latex/nitrile gloves: I love these gloves. It took me a while to find them, but they are pretty fantastic. I mix most of my projects by hand and these are the only latex/nitrile gloves that haven't torn on me. They are a little bit higher in price than most latex gloves, BUT they last me longer because they never tear when mixing cement, so they end up being a better cost/value since I'm not changing the gloves out as often.
Pocket Guide to Concrete & Cement Mixes For Crafts
Grab the free pocket guide. It has a handy chart for choosing the right mix for your project.
Plastic cups: I find these easier to scoop the cement with than an actual scoop. These cups are thick and don't crack on me.
Disposable plastic liquid measuring cup: I don't actually measure the water very often, but occasionally I have a project that requires it. I like using these because they pour nicely. I was using just regular disposable drinking cups but they eventually crack and are more difficult to handle. The fact that these have a handle, makes them efficient to use when you have gloves on and are all gobbed up with cement.
Plastic Bag: Silly as it sounds, these are incredibly useful in concrete projects. Cement is messy and pieces slub off everywhere. You also end up with excess cement that if you don't have a place to use it, then the plastic bag is perfect. I always have one set up in my immediate concrete working space. You also tend to go through a fair amount of paper towels, and again, the plastic bag – at your service.
Safety glasses- see the safety info below
Breathing mask- safety info below
220 grit sanding sponge- see sanding techniques
Cement All, Rapid Set:
Get yourself a box of this. You can find it at most big box stores in the US and Canada. It's manageable to lug around at 25lbs, and though pricier than many cement and concrete types, you'll get 27 ½ cups worth from it. That's about 12-14 of 1lb sour cream container-sized planters.

Here's their concrete calculator.
Cement All is an off-white color. If you prefer gray, then grab a box of charcoal colorant while at the store, it's pretty cheap.
If you live outside of North America, then there should be comparable mixes to the Cement All in your area. Be on the look-out for anything product stating it is cement and that it is either quick setting, fast setting or rapid setting. If you are looking for a similar mix to the Cement All, just make sure it is cement and not concrete.
Concrete and Cement Safety
A serious note about safety. Cement and concrete are dangerous to inhale and get in your eyes because they contain silica which is known to cause cancer. When I am working with cement/concrete outside, I have to be honest and say I rarely reach for my safety glasses or mask, but I keep aware of what direction the wind is blowing. However, I would be derelict in not advising you to use safety glasses and a dust mask regardless.
When the weather isn't agreeable, I work in my garage. Working in a closed space is new to me, not that I have a garage and don't yet have a dust collection system (working on it though). So in the garage, I always use my nice soft spongy safety glasses and a silica-rated dust mask– make sure you do use a mask that is rated for silica dust.
To get good clear photos for my tutorials, I have a set up of lighting that provides lots of daylight lighting. With these lights, I can clearly see the cement dust rising directly into my face. This happens when scooping the dry mix, pouring the dry mix into the mixing bowl, and again when I begin mixing. The dust isn't an issue, once the water is mixed in.
The other time when making cement crafts, that it is critical to don the glasses and a mask, is during clean up. There will likely be dry mix and pieces of cement that when swept up, will rise into the air even more so than when mixing. Please also wear safety glasses, as well as the silica-rated mask when demolding and especially when sanding.
And last, but not least, gloves. I mentioned above, in the materials, about using durable nitrile gloves. I'll say it again, concrete is very alkaline and when wet, will burn your skin. Make sure you protect yourself.
Concrete Crafts Cleaning Tips
A nylon brush or toothbrush
Chore boy steel pad (doesn't rust)
Paper towels
Extra bucket with water
Rags
Set up a bucket with water and keep it next to you. As soon as you are done with your tools, you can drop them in there. I have even used this bucket for a quick hand or finger dip when I have accidentally gotten concrete or cement on them. This will make clean-up much easier. You can't let concrete go down your sink drain, and other than building a concrete sink trap, this is the next best thing.
It is also helpful to have steel cleaning pads. I like Chore Boy because they don't rust. Those do a nice job on most tools. The next best clean up items to have on hand are a nylon brush or toothbrush. These are good for getting into crevasses.
How to deal with the leftover concrete mix? There are two ways I know of. You can flex and your mixing bowl once the cement has dried. This way it will just break off. This isn't my favorite method since I end up cracking my bowls after a couple of uses.
For cement bowl clean-up, I prefer using paper towels. The best thing to do is to wipe down the bowl with a rag or paper towel immediately after using the bowl. I start with a dry paper towel and then usually take a wet one to go over it one last time. Using paper towels isn't necessarily environmentally friendly, but you better bet, I use every square inch of those babies. However, it's also not very environmentally friendly to throw away plastic- as I don't believe these bowls are recyclable. It's a conundrum for me.
I'm Ready! Where Do I Get Started Making My First Concrete or Cement Craft Project?
Here are the five best cement crafts projects for getting started. They are super fun even if this isn't your first concrete craftsmaking experience.
Easy Beginner Projects
Magnetic Cement Planters
Cement Balloon Planter
Cement Tealight Candle Holders
Modern DIY Concrete Planter
DIY Cement Ornaments
Good luck! Feel free to ask me any questions below in the comments.