Repurposed Cowboy Boot Planter
Repurpose a cowboy boot vase and turn it into a real planter!
I found this polyresin cowboy boot at a hobby store. It reminds me of our rustic wedding decor.
It would have fit in perfectly. Apparently it is intended to be a vase.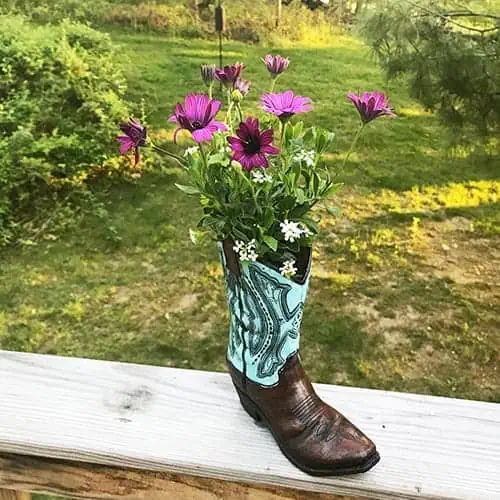 I wanted it as a planter so I drilled (more accurately, my husband drilled) a couple of drainage holes in the bottom.
From vase to planter- that counts as repurposing, right? :0}
I planted Soprano Purple in it because they look kind of like wildflowers and would fit the rustic look of the boot.
I wanted to add some white to it but didn't have any white flowers, but I did find some white flowers blossoming from weeds that did the trick, at least for the photos.
I'll add an actual plant with white flowers later.
Some of the links on this page have been provided as a convenience for finding materials. These links may also be affiliate links. As an Amazon Associate I earn from qualifying purchases, at no extra cost to you.
I only recommend products I've used and loved, unless otherwise stated. Click here to read my full disclosure policy.
DIY Difficulty Level | Easy
Materials For Making A Repurposed Cowboy Boot
Polyresin cowboy boot (Hobby Lobby)
Potting soil mix
Plant(s) of your choice ( I used Soprano)
Drill press or drill
1/4″ drill bit or similar size
Repurposed Cowboy Boot Planter Tutorial Steps
Step 1. Create Drainage Holes
Slowly drill 2 drainage holes in the bottom and widen if necessary.
Step 2. Pot Your Plants