27 Most Amazing DIY Wood Planter Tutorials
Here are 27 DIY wood planter tutorials, specifically chosen for their cool, well-crafted and unique features.
Plus, many of these wood planters have free downloadable plans!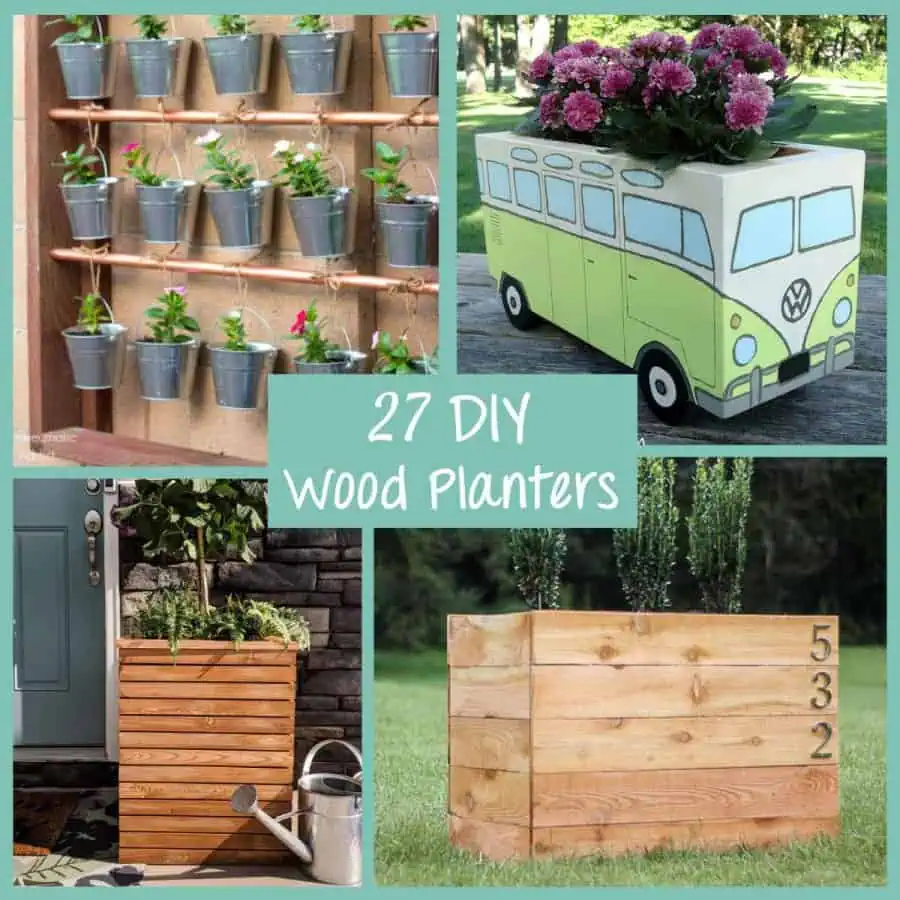 When considering what type of wood planter to build, you should consider the wood type. The best type of wood to use for planter boxes is cedar, but pine is also good.
These wood types are less likely to rot, however, adding a layer of protection with an outdoor paint, or varnish may be helpful.
If you only have access to a different type of wood then you may want to consider lining the planter box. Keep in mind, you will need to allow for drainage.
Read on for more details and to some great ideas for making planters that will spruce up your outdoor space. Below you'll find some planters that conceal unsightly objects, lovely modern planters, unique planters- even one that's a Volkswagen bus!
Surely you'll find plenty of inspiration for your yard and porch with these diy wood planter tutorials.
Some of the links on this page may be affiliate links. As an Amazon Associate I earn from qualifying purchases, at no extra cost to you. Click here to read my full disclosure policy.
Can you believe this is both an indoor and outdoor DIY plant stand! Check out the wheels. This way when the weather gets warm, you can just roll all your plants outside, and back in when it gets cold. It's supper durable too!
If you are short on space, then start thinking vertically. Create a garden wall with this fabulous DIY wood vertical planter. Head over to Houseful Of Handmade for the tutorial and free planter plans. As a bonus, she'll also show you how to install a drip watering system.
Such a creative solution for hiding an umbrella stand– keep your outdoor space looking spiffy by turning the umbrella stand into a planter!
Get your Mod on with the sleek Mid Century Modern wooden plant stand. See the tutorial at H2O Bungalow.
Isn't this a fantastic idea? Make a DIY cedar planter box and add your house numbers! This box has a neat and unique framing system. Check it out at Rain On A Tin Roof.
How about this groovy 60's Volkswagen bus flower pot? You can make this with scrap wood, and paint it the color of your favorite VW!
Dress up your porch or patio with this DIY modern wood planter. Crafted By The Hunts makes it easy for you by supplying you with the planter box plans.
Such a great way to utilize space! These hanging herb planters aren't going to take up too much space on your deck. Just hop out to your deck or balcony to grab herbs from your mini garden!
Look at the quaint charm of this Key West planter box from H2O bungalow. This is a budget-friendly way to spruce up your patio or porch.
Yes! Finally a solution for hiding your ugly hose- conceal it with this adorable planter. The tutorial comes complete with downloadable plans for this planter box.
I love the combination of wood and metal. This DIY planter box uses aluminum flashing for the panels to give this planter a unique look.
You can put just about anything on this modern A-frame plant stand. The design fits with any style of decor and is simple to make. Check out Handmade's Haven for this fun tutorial.
If you are in the market for a raised garden bed, then Anika's DIY life has the project for you. This tiered, raised garden bed has both form and function. It also comes with raised planter plans!
I'm sneaking in this one which is technically wood, but didn't require any building. This is a DIY Driftwood Planter made from a cedar tree. This is an easy project if you are looking for a quick win.
A DIY pallet wood project. Create a unique shaped planter, simply by using pallet wood. You can check out this scalloped planter tutorial here.
Don't you love this? It's a 3D modern planter box! Handyman's Daughter found an interesting material to use that makes this very easy to make! She even provides you with downloadable planter box plans.
Here's another planter you can make with scrap wood. Now you can get rid of the plastic pots those ferns come in! Jamie's tutorial is fabulously detailed, as always and comes with plans.
You can make these cute nested plant stands using scrap wood! This is another one from Houseful Of Handmade, that also includes free plant stand plans.
We all could use a little relaxation, and Pneumatic Addict will show you how to get it with this swinging terrarium tutorial with video.
I love Jaime's repurposing idea of taking a fence and turning it into a planter. It's nice and durable too. Check out this DIY Outdoor Panter.
A DIY hanging planter, keeping it simple. Faeries and Fauna shows a creative way to keep your plants off the ground with this frame. She even has a cute twin frame that goes with it that you can use for a sign.
Check out this large raised garden planter. It even includes compost bins. Lazy Guy's tutorial is especially easy to follow with cut lists and illustrations. It's practically a full-sized garden!
Charleston Crafted found a great way to utilize a corner by making a 3 tiered corner plant stand. Head on over there to see the before picture- what a difference this plant stand makes.
How sweet is this? It's a tall, tapered planter that only costs $10 to make. She utilized a fence to make this. Once again, she makes it easy by offering free planter box plans.
Check out the amazing contrast of the wood and the black paint on these planters. It adds a nice touch of sophistication. You'll find the tutorial over at Making Manzanita.
You can make this cute little wooden planter box by following the tutorial and free planter plans at Sustain My Craft Habit. It's perfect for any type of plants, not just evergreens.

I know, I know, this planter isn't made of wood -but I love it so much, I just had to include it. A smart and inspirational raised garden using pavers.
Here's another easy, raised garden planter. The trellis on the back will help with vegetables like tomatoes and gives the planter extra aesthetic interest.
This vertical planter garden is so cool! The combination of the copper and tin really set this apart.
If you are looking for alternatives to a wood planter, here are two incredible planter projects but one is made with cinder blocks and the other is wood and cement- Vertical Cinder Block Wall Planters and DIY 3D Cement Tile And Wood Planter Box.
Don't forget to Pin it for later!