A cinder block planter sculpture!
Paint and stack cinder blocks, then add plants to make a fantastic vertical planter wall.
I really needed a way to spruce up this bare spot in front of a fence in my yard. This home is a rental, so painting the fence wasn't an option and still leaves me with a bare space.
I have a bunch of plants and not enough room on my deck for all of them, so I decided to make a set of vertical cinder block planters, or planter sculpture.
By the way, a vertical planter structure like this, also makes a great privacy screen.
I also got fancy and turned cinder blocks into outdoor furniture with this cinder block bench and these concrete block planter boxes as accent pieces!
Is It Safe To Put Plants In Cinder Block Planters?
If you are wondering whether it's safe to pot plants in cinder blocks, the answer is yes, it is.
Though these blocks are made of concrete and concrete leaches alkalinity. Alkaline soil can damage many plants as most prefer acidic soil, unlike succulents which prefer alkaline soil.
However, concrete only leaches the alkalinity for a short period after it has been poured and cured.
Since cinder blocks are typically stored outside, most of the alkalinity will be gone before you bring them home from a store or landscape yard.
Additionally, the masonry primer would also provide protection from this.
You can read more about how to keep plants safe in concrete here.
Growing Healthy Plants In Cinder Block Planters
Plants can grow well in cinder block planters. But just like with any garden and any plant, you do need to take a few things into consideration- like the amount of sun they will get and the type of plants being planted.
The best way to plant a cinder block plant is to use landscape fabric. This will ensure that your plant soil retains plenty of moisture.
When I planned out the tutorial, I didn't realize just how much water would be retained using the fabric. I ended up having to cut back on watering, or I would have drowned the plants.
Cinder blocks are very porous and can dry out the soil quickly. This is one reason you often see succulents planted inside, because they do great with dry soil.
With my non-succulent plants being potted in this vertical planter wall, the plants thrived.
It also may have helped that the location of the cinder block wall was only part sun. It received a couple of hours of direct sunlight. But most of the day, it was in the shade with filtered sunlight.
Length Of Time To Make A Cinder Block Planters Wall
This project will take a minimum of 3 days in perfect weather. This is due to the length of drying times that are needed after washing, priming, painting and gluing, so plan accordingly.
If you can, wash the blocks ahead of time. It will save you a full 24 hours or more.
Now if I end up making another cinder block planter wall, it would be much easier after going through a few mistakes.
The parts of the project where I didn't end up taking two steps back, were really fun. I had read other tutorials while researching how to make these planters, and they were missing a lot of details.
However, I was able to fill in some blanks, and learned a few lessons during this project. So I believe I have the kinks worked out for you, so let me know how it goes!
If you like this project, then you might want to check a couple of my other planter project like the Cement Balloon Planter and the 27 DIY Wood Planters Tutorial Ideas.
And for other great yard projects, check out the natural-looking DIY Concrete Stepping Stones and my fabulous DIY Twig Branch Lights With A Floating Base.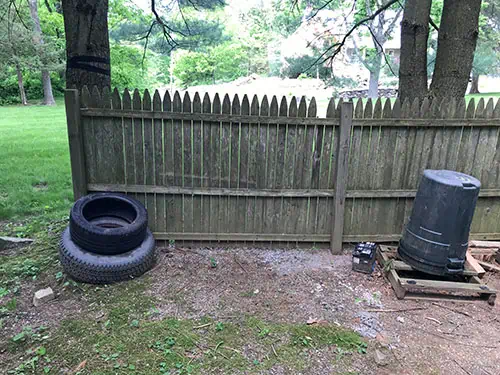 Some of the links on this page have been provided as a convenience for finding materials. These links may also be affiliate links. As an Amazon Associate I earn from qualifying purchases, at no extra cost to you.
I only recommend products I've used and loved, unless otherwise stated. Click here to read my full disclosure policy.
What Not To Do:
You can skip TSP for washing (often recommended on the inter webs), you can use just water with a little dish soap in it.
Don't forget to set up your block layout before you do anything else
Don't start painting before the blocks are 100% dry
DIY Difficulty Level | Moderate
Materials For Making DIY Cinder Block Planters
Work gloves
Scissors
1/4″ or 1/2″ mesh wire- aka chicken wire
Caulk gun
Construction adhesive for a caulk gun
Primer- 1 gallon
– Stix Waterborne Bonding Primer, or primer made for masonry. Have this tinted if you are painting these a dark color to avoid having to apply extra coats
Paint- 1 gallon
-Benjamin Moore Acrylic exterior finish
Large nylon scrubbing brush
Dish soap
Bucket
Two 9×12′ drop cloths
(2) High nap roller- 9″ (standard)
(2) 3″ Foam brush– If your cinder block has grooves on the sides
Soil- 10lb bag
Plants
Cinder Block Planters Tutorial Steps
Step 1. Design The Layout
First, set up your cinder blocks in the arrangement you want your final planter layout to be- make sure to take a photo of your layout!
Now count how many of the block holes will require plants and plan for one piece of landscape fabric and chicken wire per hole, as well as soil and the plant.
If you are placing your blocks in your yard, make sure they are on a level spot, otherwise, you will need to make it level.
Hint: Make sure you do this step first. I set up my layout after painting them and the paint hadn't fully cured so I had to repaint many spots.
You will avoid having to add extra time if you decide on your layout first.
Step 2. Clean The Cinder Blocks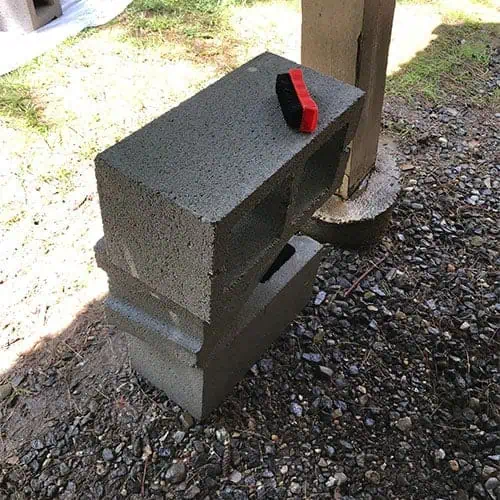 The blocks need to be washed. You can spray off most of the dust with a hose, but you will need to spot wash, using the nylon scrub brush where you see dirt.
If you have a pressure washer then use it and skip the hand washing.
Wash the blocks on a driveway or paved surface, not on grass or you will end up doing extra work.
Make it easier on yourself and stack a few blocks to use as a table so you aren't bending down the whole time.
The cinder blocks will be wet when you put them on the drop cloth so don't let them sit in a pool of water and move them around if necessary or they will take much longer to dry.
If it's sunny, stick them in the sun for speedier drying.
Don't start priming and painting these if it will rain before you are completely finished unless you are working in a covered area.
This is because moisture will get in and make it very difficult to paint, therefore the tackiness may not go away for quite a while.
Step 3. Prime The Cinder Block Planters
For priming, make sure the blocks are completely dry otherwise, the paint will peel off from the moisture leftover in the blocks.
Apply the primer with one of the 9″ rollers. I used the second roller for applying the paint since it's so difficult to get primer out of rollers.
Then, after about an hour when the primer is no longer tacky, flip the blocks over and paint the remaining edges and sides.
If your cinder blocks have grooves on the sides, then use the foam brush to get between them.
Hint: It's not necessary to prime or paint any of the bottoms or insides. I primed and painted the insides of the ones that would be visible, but didn't like the way it looks.
You are welcome to do so, but you will likely need more than 1 gallon of primer and paint.
Step 4. Paint The Blocks
After 4 hours, your primer should be dry enough for your blocks to be painted (check the manufacturer's instructions).
Painting will require at least two coats. I did two coats and then painted a third because I didn't have the forethought at the time to get my primer tinted.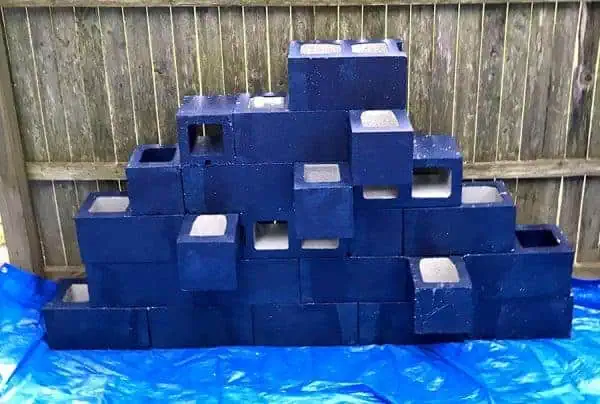 ended up doing the third coat after the planters were in place, just before planting –and that worked out fine.
Step 5. Apply Adhesive
Once the paint is dry, you are ready for the landscape fabric. Go ahead and flip over all the blocks that you counted that are being planted.
I had 10 actual blocks that were getting plants, but 11 holes since the top block was getting plants in both holes.
Cut out the landscape fabric so that it covers the hole and goes up to about 1/4- 1/8″ from the outside edges.
** I didn't do this- I cut my fabric pieces a little too short which made them difficult to glue.
Measure the size of that piece you just cut. This will tell you what size to cut the bottoms for the rest of the cinder block planters to.
Next, apply the glue to the bottom. It should be about 1/4″ wide strip all the way around.
Construction adhesive takes 24 hours to cure, but after a few hours, you should be safe to position your blocks again.
*However, it's important to wait a day before you actually plant your plants.
Step 6. Support The Bottom
The weight of the soil when wet can be quite heavy and may be too much weight for the landscape fabric. To combat this, reduce some of the weight using the wire mesh.
Cut the chicken wire to about the size of the hole in the block and then cut a split into each corner do it folds more easily.
Wearing work gloves, fold over the edges so that when the mesh is inserted it doesn't pierce the fabric.
The goal is to get the wire mesh to basically catch on the sides of the cinder block.
Step 7. Add Plants To The Cinder Block Planters
Add soil, then fill in with your plants!
Don't forget to Pin it for later!
Vertical Cinder Block Planter Wall
How to build a vertical cinder block planters wall. Take advantage of vertical space to create a beautiful wall of planters. An inexpensive way to decorate your patio or garden.
Materials
cinder blocks
outdoor paint
lanscape material
wire mesh
Tools
Please see the full, detailed materials list above the tutorial.
Instructions
Design The Layout For The Placement Of The Cinder Blocks
Wash The Cinder Blocks To Prepare For Painting
Prime The Cinder Block Planters - Use A Grey Primer If You Are Painting Them A Dark Color
Paint The Blocks
Apply Adhesive To The Fabric Bottom
Support The Bottom With Wire Mesh
Add Plants To The Cinder Block Planters