31 Ghost Pumpkin Carving Stencils For Free
Halloween is around the corner, and we have 31 awesome ghost pumpkin carving stencils for you –and they're all free.
As you prepare your front porch or inside your home for Halloween decorations this year, I'll bet a Halloween Jack O' Lantern is on your list.
And if so, it's time to head to the pumpkin patch, find the perfect specimen, and hone your pumpkin carving skills.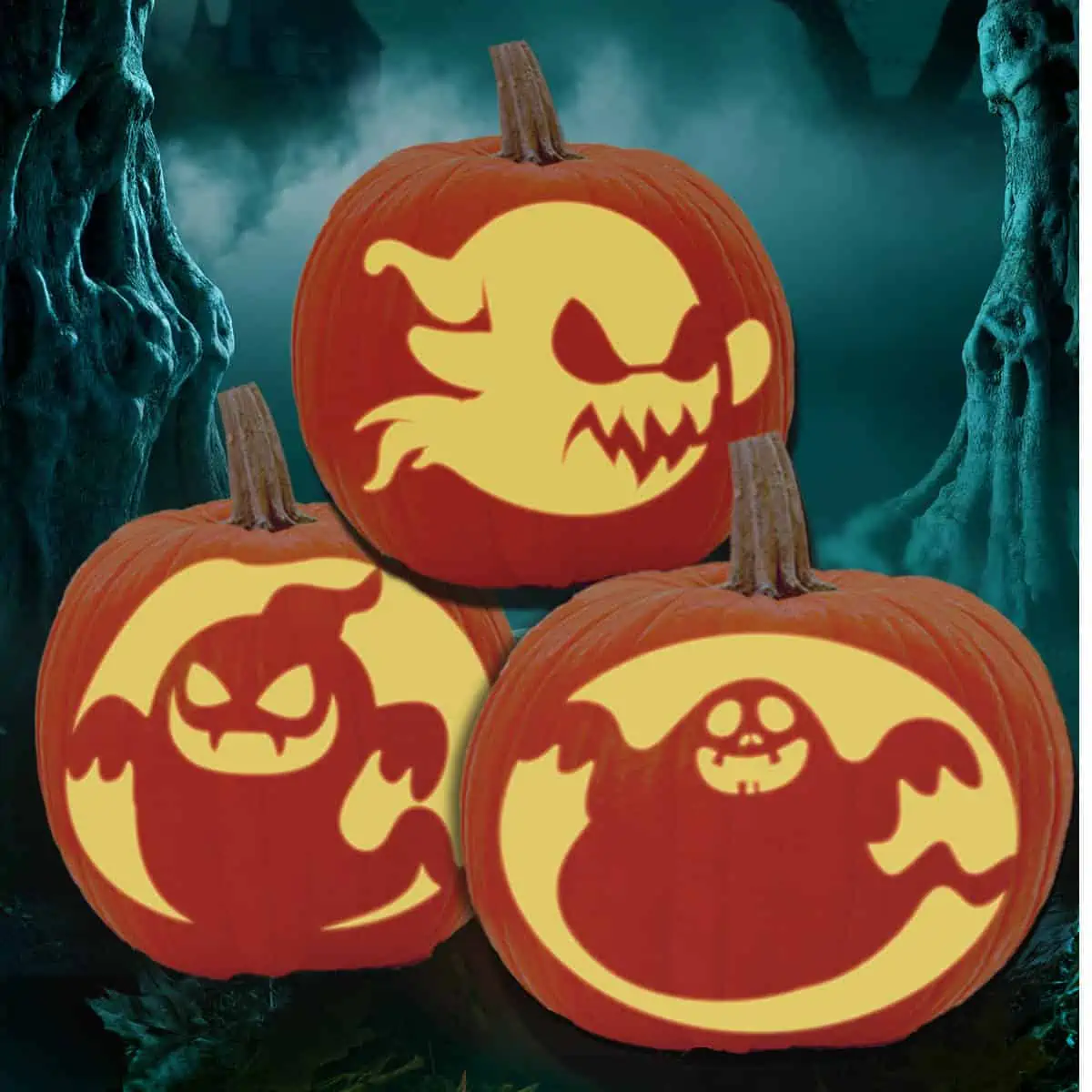 We've got a great selection of Halloween ghost lantern faces for every skill level to choose from, including funny ghosts, friendly ghosts, scary ghosts, and super cute ones too!
Here's how to carve a Halloween pumpkin using our printable pdf files.
First, you don't need the perfect pumpkin, but you will want to consider size and shape and match it appropriately between your pumpkin and the template.
All the pumpkin carving patterns can be scaled within your printer settings, so you can shrink the entire template to fit or make it larger.
Here's an example, but each printer setup will be slightly different.
The carving template size is relatively easy to modify to fit most pumpkins, but the shape isn't always.
For example, if your pumpkin is short and wide, a tall template may not fit. Or, even if you shrink it down, it may make the details smaller, making it more challenging to carve.
Aside from that, most pumpkin templates should work for most pumpkins. For additional help, here is my tutorial for carving a pumpkin with a pattern.
And this one specifically for carving a foam pumpkin with a pdf template.
After you're done carving, don't forget to add a tea light candle or a battery-powered one to light up your work of art!
Fun Fact
Though many people believe in ghosts, scientists widely believe there is no evidence of their existence.
For more free printable pumpkin stencils, check our out our skull pumpkin templates, aliens from space, witches, fish and cute cats and Star Wars pumpkin patterns.
Also, you'll find free pumpkin stencils of simple, classic Jack O' Lantern patterns of faces on our sister site.
Choose your favorite pumpkin carving stencils below to print and carve. Happy Halloween!
Ghost Pumpkin Carving Stencils
Hilarious, here's a ghost with jazz hands.
This ghost pattern reminds me of Batman.
This guy packed on a bit of weight, but that's cool in the ghost world –no judgment there.
Fun Fact
Some people have said they have seen a ghost that looks like a cloud or is misty. And other people say they have seen ghosts that look like people.
Check out this fanged ghost with a grim reaper hoodie.
A very ominous appearance with this looming ghostie.
This ghost kind of reminds me of Casper The Friendly Ghost.
You'll want a steady knife to get the cheekbone and nose cuts.
Ooooh, it looks like this ghost bites!
Here's a funny ghost. I think he probably was a comedian in a previous life.
Fun Fact
Some famous ghosts in movies are Slimer in Ghostbusters, Casper The Friendly Ghost, The Sixth Sense, and The Headless Horseman.

This ghostie is looking for some attention in the graveyard, with his arms raised high.
Don't forget to Pin it for later!
A ghost that's ready for a fight, so I'd turn and walk away fast.
A ghost from Cirque du Soleil! Wow, does he have balance, or what? That takes some skills, yo.
This pumpkin face makes me laugh.
And he's just so cute and looks like he's having a good time.
Oh, super creepy! You can pull off this masterpiece with all the bends in the pattern's lines if you have good knife skills.
Fun Fact
A person who studies ghosts and the supernatural is called a paranormal investigator.
What's up with the sunglasses on this ghost?
Do you think this one's got a mind as twisted as his body?
He's a trying out for the next Dancing With The Stars!
A zombie ghost with owl wings, rising from his tombstone in the moonlight on Hallow's eve.
This ghost knows some tricks, because he (or she–who can tell with ghosts?) can fly upside down.
Speaking of moons, don't forget to check out our moon and stars pumpkin carving stencils.
Look, it's a Pac-Man ghost. He looks kinda mean, though.
This cat's feet aren't there because he's got a ghostie tail instead.
Is it just me, or does he look like a cat who swallowed a canary?
Look at this cute ghost –I can't tell if those curl-ups are part of his ghost sheet attire or cute pigtails.
This should be a pretty easy one to carve.
For some other cute and easy pumpkin carving ideas, check out our adorable cat carving patterns!
This one's got such a big mouth. I'm pretty sure his moans and groans produce quite a stir in a haunted house.
This ghost is climbing out of some creepy shadows.
Here's an awesome pumpkin carving pattern. This may require a bit of detail work with the extra cuts.
If you're looking for an easy pumpkin template, this one is good with its simple lines.
Just be sure to use a smaller blade for the eyes and mouth.
Ole' Slippery Slim here, that's what they call him in the haunted world.
This silhouette of the three ghosts is a fun one. Just be sure the entire template fits on the pumpkin.
Here's another scary ghost. Don't let his pausing stance fool you. He's coming to get you.
We've definitely got a friendly ghost. With a big adorable smile like that, how can he not be?
Another one that bites! I think even his arms and tail bite. Yikes!
Look out, it's a terrible twosome and they both have that grim reaper-style hoodie thing going on.