Soccer Pumpkin Carving Patterns (For Free!)
We have created a variety of unique soccer pumpkin carving patterns for our soccer-loving fans.
Use these free printable PDF stencils to make your Halloween pumpkins with flying soccer balls designs or an outline of your favorite soccer hero.
If you have followed the recent World Cups, you may be picturing Lionel Messi or Megan Rapinoe. What about Alex Morgan or Kylian Mbappe?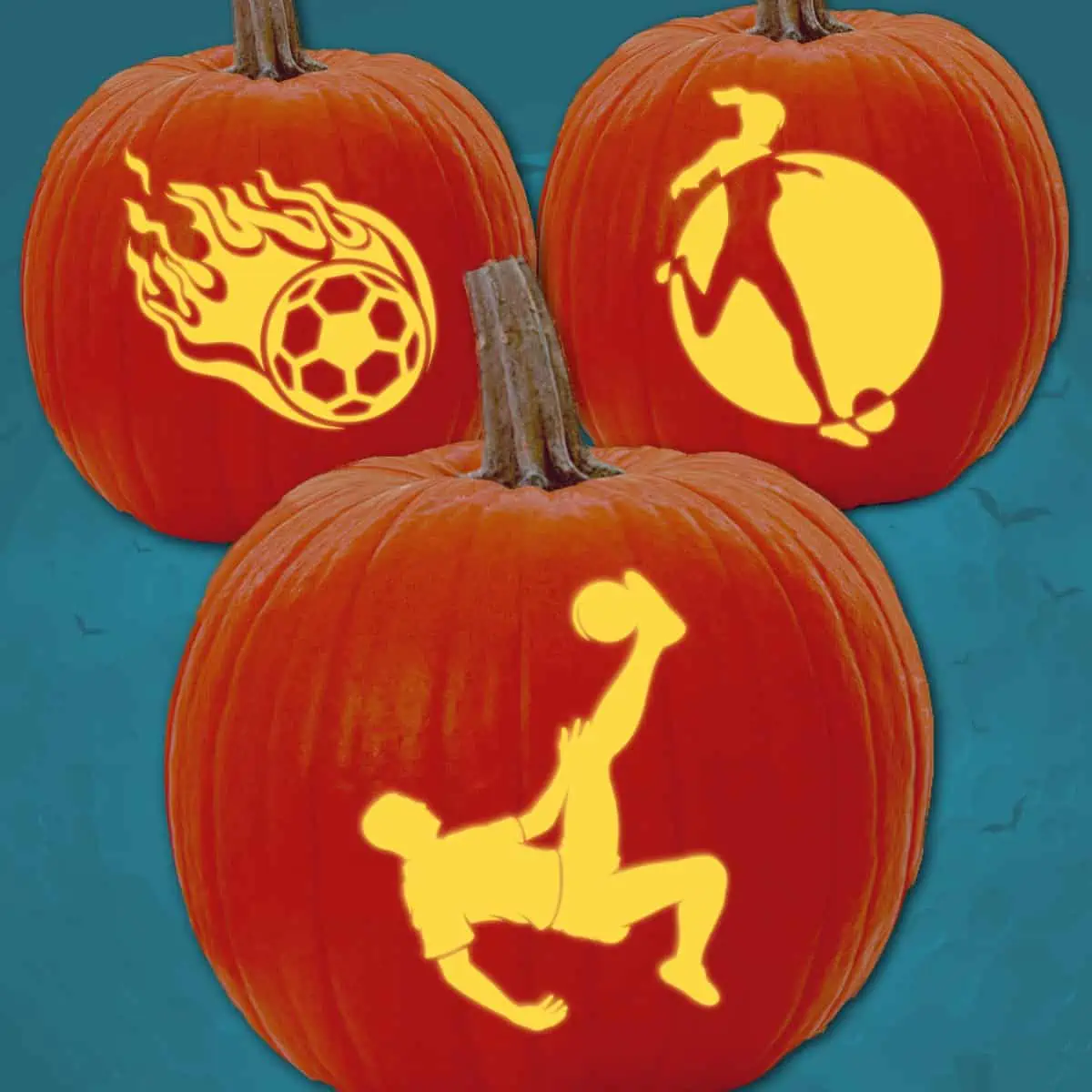 Or is MLS and FMLS your thing, or is it the European league? Or if you're like me, you're just a huge soccer fan and love watching it all.
If you're looking for different ways to celebrate this season, here's a fun idea: have a pumpkin carving party with your soccer friends.
Download or print one of your favorite pumpkin designs and have a contest to see who can carve the coolest soccer-themed pumpkin.
It's a great way to spend time with friends with common interests.
To get started:
Choose your favorite pumpkin carving pattern below.
Print it out onto a piece of regular, white paper. You can scale it on your printer to fit the size of your pumpkin.
Use painter's or masking tape to attach it to your pumpkin.
The areas in gray will be what you carve away. I like to use a thumbtack to press into the paper and skin of the pumpkin to outline the outer edges of the gray areas on your template.
When you finish, place your soccer Jack O'Lantern on your front porch or in your window to be the envy of your neighborhood.
For more carving inspiration, you may also want to take a look at our templates for skulls, Star Wars-themed stencils, and moon and stars patterns.

Designs Of Soccer Pumpkin Carving Patterns
A fast-moving soccer ball with trails of fire.
This soccer player bounces a soccer ball off of his back foot to score a goal.
A simple soccer ball pattern.
A soccer player leaps to take her shot on goal.
A soccer ball sails through the air.
A girl kicks the ball heading for the net.
A women's soccer team player poses in front of a soccer ball.
A men's soccer team player does a bicycle kick to score a goal on net.
Don't forget to Pin it for later!