21 Free Witch Pumpkin Carving Stencils
Halloween will be here before you know it, so we made 21 unique witch pumpkin carving stencils to help you show off your carving skills. And best of all, they're free to print.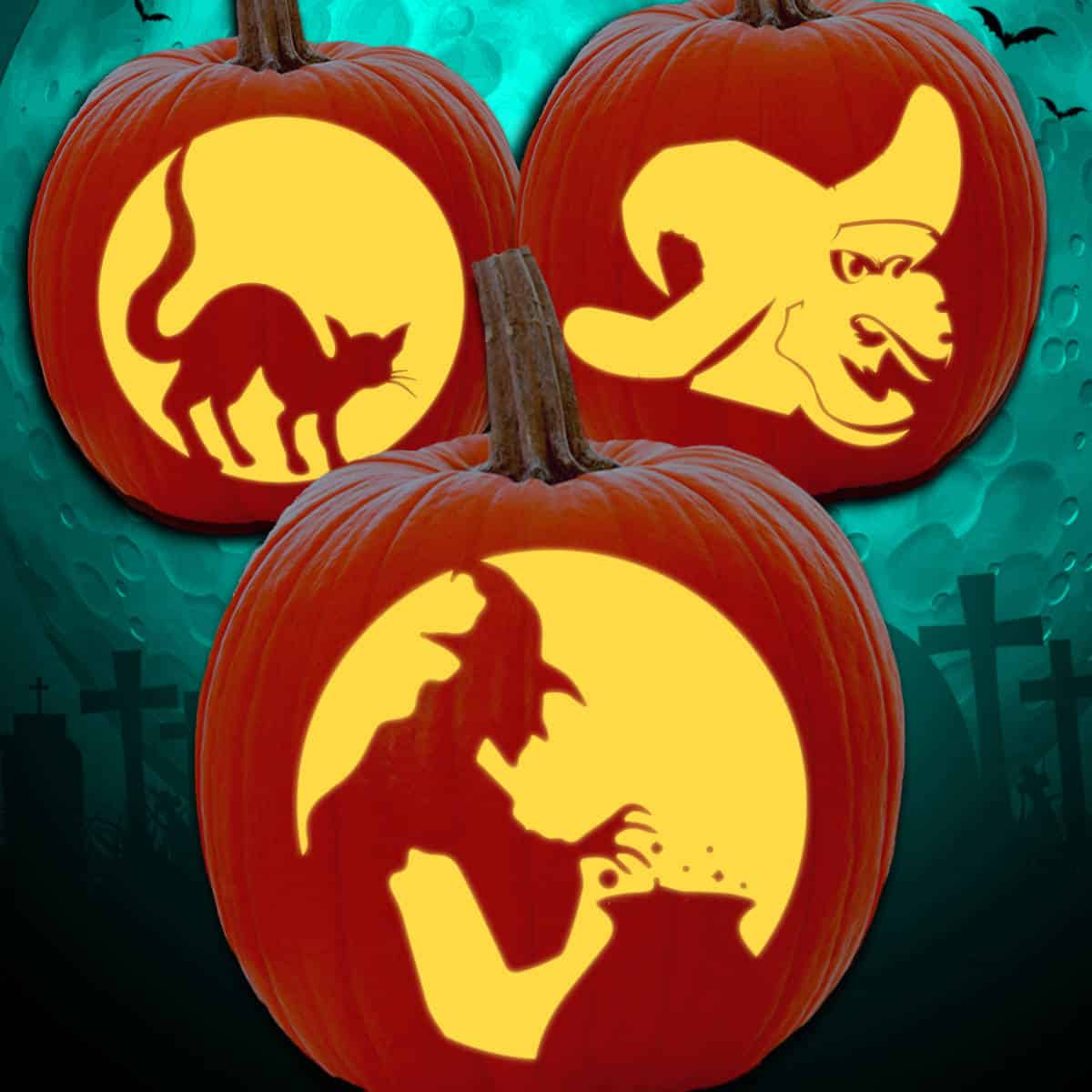 Some of the links on this page have been provided as a convenience for finding materials. These links may also be affiliate links. As an Amazon Associate I earn from qualifying purchases, at no extra cost to you.
I only recommend products I've used and loved, unless otherwise stated. Click here to read my full disclosure policy.
What could be more fun-looking Halloween decor than a glowing, carved pumpkin of a witch?
Halloween offers many great activities the family can do together, and pumpkin carving is perfect for this.
To set the mood for your carving time, cook up some of your favorite fall appetizers and enjoy a creepy movie together.
Using a pumpkin carving stencil is a great way to get a professionally carved look without creating your own design.
And if you need other pumpkin carving ideas for stencils, take a look at our ghost carving templates, cat pumpkin carving ones, and these creepy skulls carving patterns.
Materials Needed To Use a Pumpkin Carving Pattern
Pumpkin carving kit
Thumbtack
Blue painter's tape
Ballpoint pen or sharpie
Sheet of plain printer paper
Printer
How To Use The Witch Pumpkin Carving Stencils
You don't need to spend much time searching for the perfect pumpkin.
But you do want to consider the size and shape of the pumpkin based on the witch pattern you picked out.
If your design is big, you'll need a larger pumpkin. If it's a taller pattern, go for a taller pumpkin.
After you have removed the pumpkin seeds and pulp from the inside of the pumpkin. It's time to work with the stencil.
Here's a great tutorial for learning how to carve a foam pumpkin, using a pdf pattern.
And that's it. You are ready to carve.
When you're done carving your witch pumpkin, pop in a tea light candle, and place your witchy Halloween pumpkin on the front porch for everyone to see.
Choose from the free pumpkin carving patterns of witches below, there are simple ones as well as intricate patterns to meet any skill level. Just click the images to print the PDF files.
Witch Pumpkin Carving Stencils
The glowing color on the pumpkin is the area that will be carved.
A profile and silhouette view of a witch with a long wavy mane and her witch hat.
A witch's cauldron.
An awesome pumpkin carving pattern of a witch admiring her brew.
One of our easy pumpkin patterns is a simple witch hat.
A Halloween witch flying on her broomstick.
A silhouette of a witch face and her witch hat.
A witch flying sitting sideways on her magic broomstick.
A witch holding her broomstick.
A bent witch's hat with her creepy hand.
A bent-over wicked witch with her hand outstretched to grab some children.
A view inside of a circle of a witch wearing a hat.
A good witch gliding past the moon.
An ugly, warty witch face template.
A witch with long hair pondering her next spell.
A smoldering cauldron filled with witch's brew.
An old hag witch on a slow climb on her broomstick past the moon.
A good witch gliding through the air.
A witch flying past the moon with her pointy shoes on her broomstick.
A witch hat.
A witch's Halloween black cat.
Here's an amazing pumpkin stencil of a scary witch with a Wicked Witch of the West –like witch face.
For other ideas for Halloween activities, you may want to check out our Halloween color by number printables, and how to draw a vampire bat –both offered free on our sister site! Happy Halloween!