41 Amazing DIY Dollar Tree Crafts for Fall
41 Amazing ideas for Dollar Tree fall crafts for 2021, with easy tutorials on how to make your own decor for your home this season.
I've gathered 41 of the best, and quick and easy –do it yourself fall crafts tutorials. These will help you do it up in style and on a budget so you can create a warm fall ambience for your home.
I've also decided to add a few tutorials that don't have materials that come from the Dollar Store because they are still very thrifty and just too good to leave out!
Did you know you can actually decorate your house for fall cheap? Yes, you can. Dollar stores can make this very possible. What's so great about getting fall decor from the Dollar Tree?
Aside from everything truly being $1 dollar, is that generally the decor is fairly generic looking-which is a good thing because it's like their decorative items are made to be jazzed up.
And with everything being so inexpensive you can put your eyes on just about any ordinary everyday item and imagine alternate uses for items.
For instance, you can take neon glow stick necklaces, let the glow part fade away, twist them together like they were a bittersweet vine, then spray paint them, and add some acorns.
Suddenly you have a fall wreath! Now, that tutorial doesn't actually exist -yet ;), but it's just another idea for making decor on the cheap!
What's the difference between the Dollar Tree and Dollar General? Well, everything at Dollar Tree is- like I mentioned above, just $1 dollar.
Dollar General has many of the same things as Dollar Tree, but not everything in the store is $1 dollar.
Plus, in my experience, Dollar General tends to have more typical grocery store times than a Dollar Tree.
You'll have great finds at both, but if you have to pick one over the other for anything decor or arts and crafts, I recommend Dollar Tree.
If you are looking to come with your own ideas on what to make, then use the tutorials below for inspiration.
And what should you look for when shopping at the dollar stores?
For making Dollar Tree fall crafts in 2021, be on the look out for artificial flowers, plastic pumpkins and gourds, foam and wood wreath bodies and fabric leaves.
They also carry glass vases and bowls. Then also, most locations carry supplies like glue, glitter, scissors, wore, ribbon and string.
You can pretty much get everything you need to make your own fall decorations and these 41 tutorials will show you how!
If you are looking for DIY Dollar Tree Easter crafts, you'll find those here.
41 Ideas for Making Autumn Decor
The Latina Next Door did an amazing job of turning Dollar Tree pumpkins into beautiful fall decorations using Raffia ribbon.
First Day Of Home has a post for crafts for fall that you'll love.
This tutorial uses faux painting techniques, and decoupage to make these designer-looking fall pumpkins.
Chalk paint is the secret to making this beautiful sage colored pumpkin.
Can you believe this was made with a pumpkin from a Dollar Store?
How colorful and fun is this falling leaves wreath using leaves from Dollar Tree? It's the perfect craft to make for fall.
Here's a concrete one I'm sneaking in. These elegant DIY fall candlestick holders with gold accents were made using a water bottle.
Here's a crafty fall decor tutorial idea using spray paint to paint plastic pumpkins.
You'd never know they're plastic. I love the drip effect.
Make this Dollar Store fall decor banner using just a few ordinary Dollar Store materials.
So simple, yet transforming. Could gilded leaves be any more perfect for autumn?
Don't worry, a regal home isn't required for these royal velvet pumpkins. This pumpkin craft will look great in even the most casual of homes. This tutorial will show you how to make these crafty elegant velvet pumpkins, with only a few materials!
Save yourself some of the messy clean up and create a concrete look with a faux finish technique for these unique fall DIY pumpkins. I'm a big fan of real concrete–but it's definitely not practical for making things with year round.
Getting ready for Christmas? Take a look at my 39 DIY Dollar Tree Christmas Crafts and Decor Ideas.
Using fall garland is a creative way to decorate for autumn. Make this fireplace mantel craft with mini fall decorations from a dollar store. This DIY fall garland is a great idea for draping around your fireplace mantel.
Are you planning on making over your fireplace? Here are 37 incredible fireplace remodel ideas.
Here's a quick tutorial for these homemade delicate, yet rustic vases. Sometimes the best ideas come in the simplest forms.
How about this tutorial for making DIY Concrete Pumpkins? This is a unique DIY fall decor craft where you can take these rustic homemade concrete pumpkins and add some shimmer paint to make them look fancy.
Bandana Pumpkins for Fall! Aren't these so clever and colorful! I love this alternate use for bandanas. Why not wrap them around a pumpkin for this fun fall decoration? See how The Heathered Nest made these neat decorations.
Aren't these metallic apples gorgeous? These easy-to-make decorations are perfect for a fall tablescape.
Even without a sewing machine, you can make these charming plaid fabric pumpkins.
Create an antiqued pumpkin look made with Dollar Tree crafts. Here's a great example of using dollar store pumpkins for autumn decoration. This gorgeous turquoise pumpkin decor doubles as a sign.
This tutorial will show you how to make these magnificent heirloom pumpkins! DIY Beautify knows how to make anything beautiful, while being thrifty.
Make this rustic sign for your fall home decor using a fence picket! See the tutorial at B4 And Afters.
Ready for a super fun DIY project utilizing materials from nature.
This gold decor idea is sure to give your home a perfect fall ambience.
Here's another antiquing trick from DIY Beautify's thrifty antique pumpkin tutorial.
Okay, so these materials didn't come from a Dollar store, but this DIY fall wreath sign was still budget-friendly to make.
This tutorial even comes with a free SVG file.
Use materials from nature and combine with a Dollar Tree pumpkin to make this sweet looking pedestal rope bowl.
Are you hosting Thanksgiving this year? Here's a quick and easy way to spruce up your tablescape, just wrap a candle with paper and a ribbon.
Use Mod Podge to create a decoupage pumpkin with this tutorial for a unique autumn decoration.
Paint faux pumpkins from Dollar Tree to create beautiful farmhouse table decor for fall. This luxurious rustic tablescape was made with mini pastel pumpkins using dollar tree decor.
If you are wondering how to make a fall wreath, Tag and Tibby will show you how. You can make DIY fall decor on the cheap and decorate your house with this creative, upcycled thrift store wreath.
Who said you can't have bright colors in the fall? Leaves may begin to fade, but not these Hudson Bay inspired pumpkins. Such a great idea!
Sweet Southern Oaks has a creative idea. She takes an ordinary charger plate and transforms it into a sophisticated copper plate.
From simple to snazzy with this Dollar Store crafty tutorial. You'll be able to make a DIY fall-time door wreath in just a few easy steps.
Have fun with this fall Dollar Tree DIY Melted Crayon Pumpkin craft where you can get super creative, and a great one to make with kids.
And what about these super realistic pumpkins from Anderson + Grant.
There's true artistry at work here- but you don't need to be an artist to make these!
Yes, you can make this gorgeous white fall wreath for cheap! Doesn't it look store bought?
Adorable chalk painted rustic acorns for DIY table centerpieces. Wrap them in sisal or lace for fancier decoration for your fall dinner table.
A creative repurposing of a craft supply–use plastic eggs as acorns! Yep, those are plastic eggs, wrapped in decorative twine and lace. Aren't these rustic acorn crafts adorable!
This DIY tutorial for a fall farmhouse wreath is easier than it looks. Use eucalyptus craft leaves to make it.
These stunning fall DIY decorations can be yours, just by using foam pumpkins and bandanas. Check out the tutorial!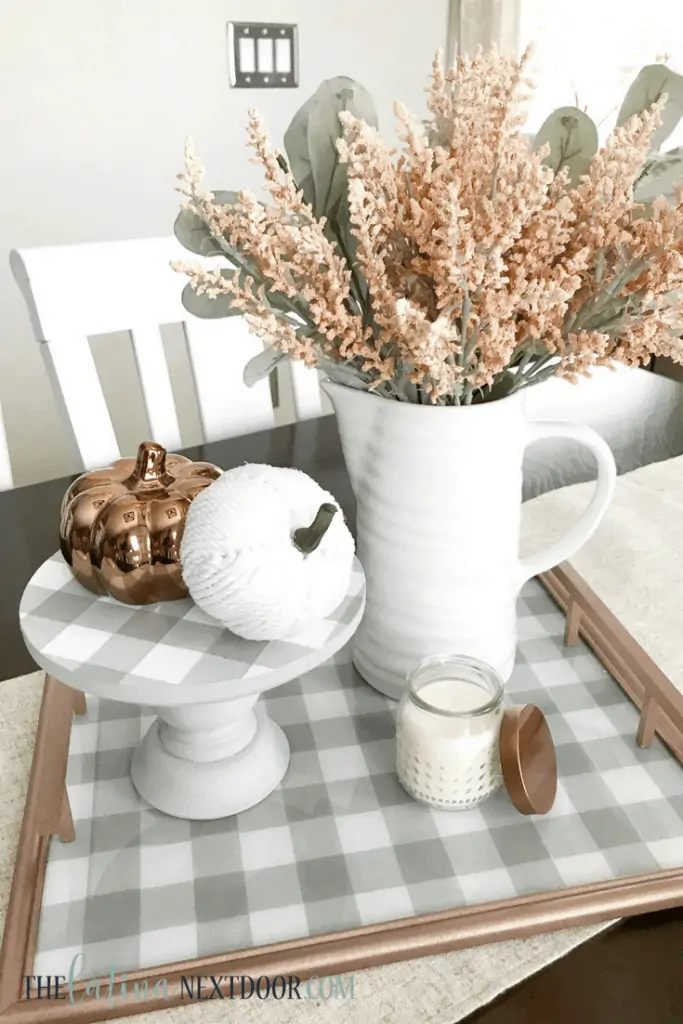 If you love Buffalo check plaid, then you'll love this Buffalo check plaid tray that you can use as a centerpiece.
Add some color to your fall decor with this beautiful Dollar Store berry sprig DIY wreath. So gorgeous and still simple to make. Use floral picks and a foam ring to make this seasonal decoration.
These DIYers somehow managed to make an elegant foam pumpkin. This chic white pumpkin is made to look fancy with pearly white buttons and lace to cover it. I love the clever wooden thread spool being used for a stalk!
Aren't these fall candles so festive? What a nice ambiance these autumn leaf candles give. This fun DIY project can add ambiance to your home and are perfect for decorating your table with.
Use colorful fabric Dollar Tree leaves and burlap to make this seasonal DIY wreath.
Don't forget to Pin it for later!