12 Amazing Concrete Candle Holder Ideas
These 11 concrete candle holder ideas are perfect for the DIY enthusiast! They're all fun to make and will add an artistic touch to your home decor.
With 12 amazing tutorials to choose from, you'll be on your way to making your own beautiful concrete candles.
As you'll see, there are many different types of concrete candle holders that you can make. The options are limitless as far as creativity goes!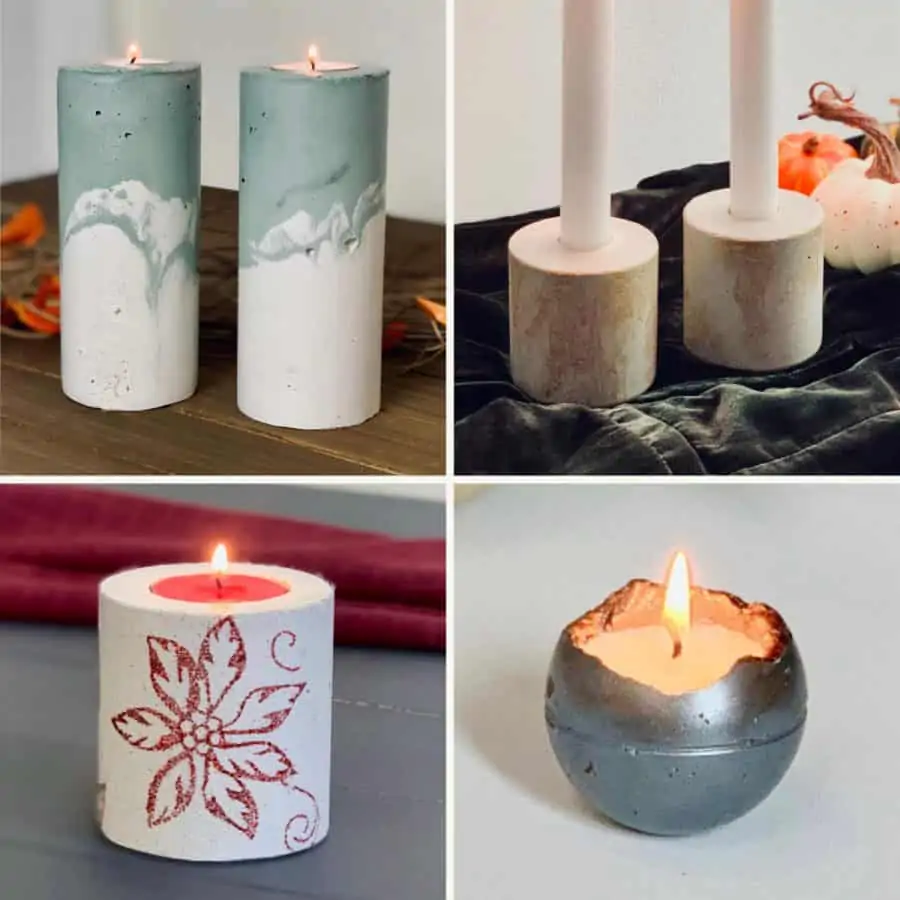 Before getting started on your concrete project, check out my tips for making candle holders that have a professionally handcrafted look.
Here's a post with 49 candle holder ideas with other materials, like air-dry clay, wood, or repurposed.
Some of the links on this page have been provided as a convenience for finding materials. These links may also be affiliate links. As an Amazon Associate I earn from qualifying purchases, at no extra cost to you.
I only recommend products I've used and loved, unless otherwise stated. Click here to read my full disclosure policy.
Tips For Making DIY Concrete Candle Holders
When choosing concrete molds, if you want a smooth surface, choose either smooth plastic molds or silicone molds.

Always vibrate the concrete in the mold before letting it cure.

This will cause air bubbles to rise to the surface and release, otherwise, you risk having pinholes or pitting in your concrete.

If you use a plastic bottle as the mold, you can cut it to make a perfect collar.

Use a homemade straight edge to get straight line cuts around a cylindrical bottle. You can see the straightedge technique here.

Most concrete mixes will require that you wait until the next day (usually 24 hours) before you demold, so plan accordingly.

If you need the candle holders to cure in less time, then look for a rapid setting mix, but be sure the bag label also says it's fast curing. Not all quick setting mixes are quick curing.

Seal your concrete candle holder to prevent the oil from the wax from penetrating the concrete.

This tutorial shows the steps and materials needed for sealing concrete candle holders.

Regardless of the type of concrete mold you use, you will likely have rough edges.

These can be sanded with regular sandpaper or special diamond sanding sponges.

When making concrete candlestick holders, don't use the actual candle as the inner mold.

The heat generated during the curing process will melt the candle and cause you to lose part of the inner shape.

This tutorial shows a great way to make an inner mold for a concrete candlestick holder.
Pocket Guide to Concrete & Cement Mixes For Crafts
Grab the free pocket guide. It has a handy chart for choosing the right mix for your project.
Typical Supplies Used In These Concrete Candle Holder Ideas Tutorials
Silicone molds or plastic containers
Disposable container for mixing
Cooking spray- optional for lubricating the mold
Plastic cups
Plastic mold
If there are other concrete projects you'd like to try, then here is where you'll find all my tutorials for diy concrete crafts.
12 Amazing Concrete Candle Holder Ideas
Here are 12 amazing concrete candle holder ideas. Make your own pieces of home decor and add ambiance to any space, or give them as gifts for a special occasion.
Don't forget to Pin it for later!