21 Unique DIY Concrete Planters (For You to Make!)
Get inspired with these 21 unique DIY concrete planters ideas, with tutorials.
With these 21 unique DIY concrete planters listed below, you'll find ideas for just about any DIY concrete planter you want to make.
Concrete planters are probably the funnest craft you can make with concrete.- in my opinion.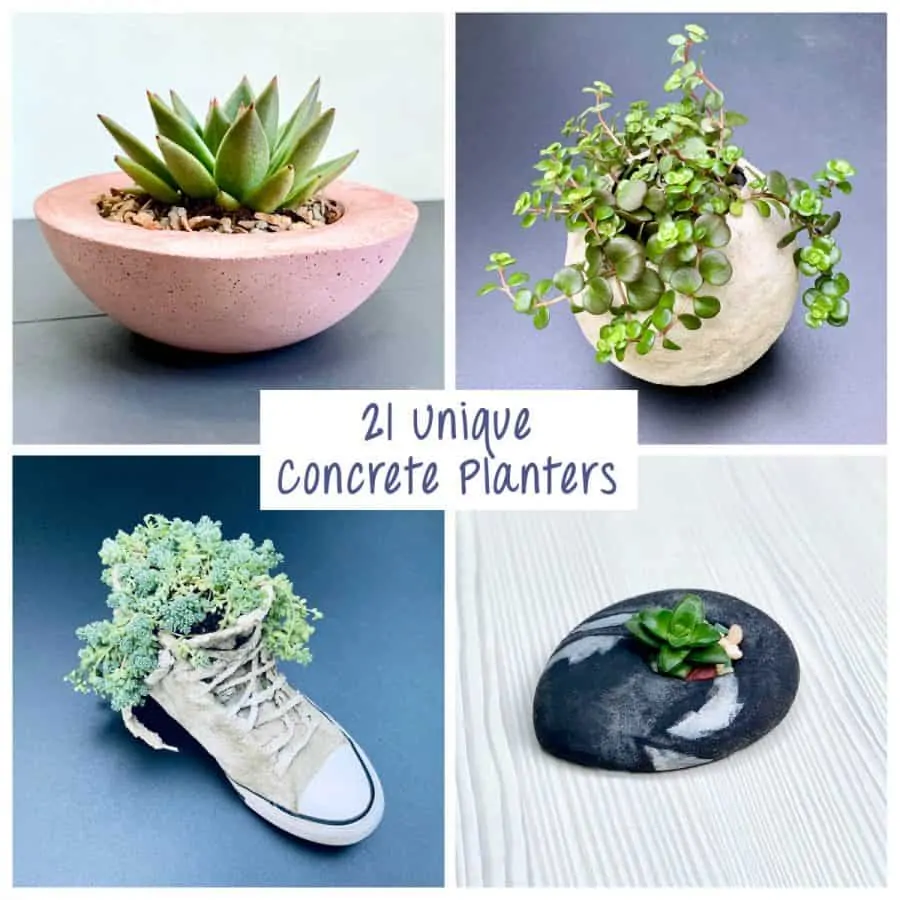 I mean, you can create just about any look you want. You can make them in just about any size, shape or color.
Give your own personal touch to any cement or concrete planter because doing so is really fairly easy once you've got the basics.
General Materials For Making These Concrete Planters
Cement or concrete mix
Disposable bowl
Disposable cup
Safety mask– rated for silica dust
A pre made silicone mold, or plastic container, or build your own form

For getting down to the nitty gritty of how to make concrete planters, take a look at How To Make Concrete Planters And Everything You Need To Know article.
And when you're done making them, you're going to need a big ole indoor/outdoor plant stand to keep them on. I have a DIY tutorial on one with 6 shelves and 6 fee tall! Free plans too.
Pocket Guide to Concrete & Cement Mixes For Crafts
Grab the free pocket guide. It has a handy chart for choosing the right mix for your project.
Some of the links on this page have been provided as a convenience for finding materials. These links may also be affiliate links. As an Amazon Associate I earn from qualifying purchases, at no extra cost to you.
I only recommend products I've used and loved, unless otherwise stated. Click here to read my full disclosure policy.
21 Unique DIY Concrete Planters To Make!
21 unique DIY concrete planters you can make! Inspiring and easy tutorials for making your own planters with concrete and cement.
If you need some help troubleshooting cracks and crumbles in your pots, then take a look here.
Don't forget to Pin it for later!